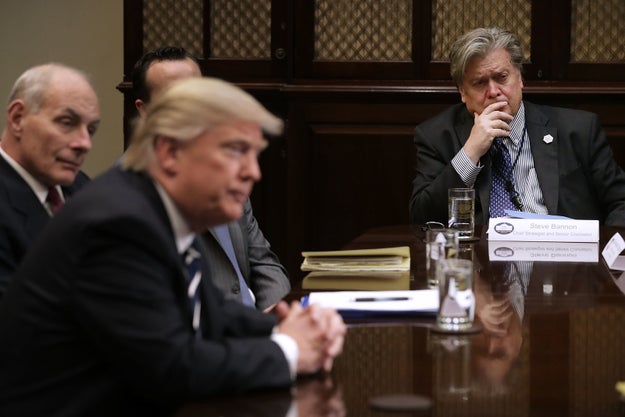 Chip Somodevilla / Getty Images
President Donald Trump has reorganized key players on his National Security Council, including removing chief strategist Stephen Bannon from the influential group, multiple outlets reported Wednesday.
Citing a regulatory filing, Bloomberg, which first broke the news, also reported that Homeland Security Advisor Tom Bossert's role has been been downgraded.
In January, President Trump took the unusual step of demoting two key figures, the director of National Intelligence and the chairman of the Joint Chiefs of Staff, in order to place Bannon, his chief strategist and the former editor of right-wing website Breitbart, on the NSC's principals committee.
The NSC is the primary group through which the president makes foreign and domestic national security considerations. The council consists of high level interagency members of the government, including certain members of the president's cabinet.
"Susan Rice operationalized the NSC during the last administration. I was put on to ensure that it was deoperationalized," Bannon said in a statement to the Wall Street Journal. "[Current National Security Advisor] General McMaster has returned the NSC to its proper function."
Bannon's statement came as scores of other reporters quoted a "senior administration official" who had used the phrase "deoperationalize" to explain the NSC shakeup.
Unnamed White House officials have been telling reporters that Bannon's role on the NSC, in addition to "deoperationalize" the group, was to keeps tabs on former general and ousted national security advisor, Michael Flynn.
This is a developing news story. Check back for updates or follow BuzzFeed News on Twitter.
Source: https://www.buzzfeed.com/usnews.xml