It emerged Thursday that the Chairman of the House Intelligence Committee is being investigated over public allegations of unauthorized disclosures of classified information.
House Intelligence Committee Chairman Rep. Devin Nunes said Thursday he was stepping aside from the investigation into Russian interference in the election and possible ties to Trump campaign aides due to a congressional ethics probe into allegations he made "unauthorized disclosures of classified information."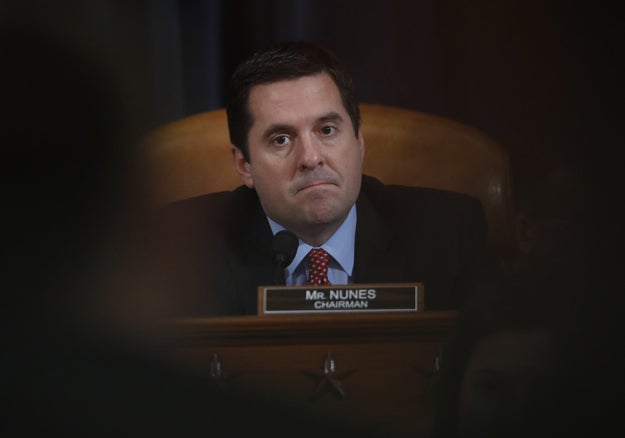 Manuel Balce Ceneta / AP
The Ethics Committee said Thursday that it was investigating public allegations that Nunes may have made "unauthorized disclosures of classified information" and to determine whether he violated House Rules.
"The Committee notes that the mere fact that it is investigating these allegations, and publicly disclosing its review, does not itself indicate that any violation has occurred, or reflect any judgment on behalf of the Committee," the statement read.
Nunes said he was requesting to speak to the Ethics Committee to "expedite the dismissal of these false claims."
Nunes had been facing calls to step aside from his role since he said last month that the Trump team was surveilled by US intelligence officials and it was "possible" President Donald Trump and his associates' personal information was picked up during incidental collection.
Top Democrats in Congress demanded Nunes, a Trump ally, recuse himself from the investigation when it emerged he had met with sources at the White House, raising concerns about his ability to objectively oversee the investigation.
Last week, Nunes had indicated he would not step aside, blaming "politics" for demands of his recusal.
"Why should I?" Nunes had said. "It's the same thing as always around this place — a lot of politics, people get heated, but I'm not going to involve myself with that."
Rep. Adam Schiff, the Intelligence Committee's ranking Democrat and a vocal critic of Nunes, said Thursday that he respected the decision to stand aside.
"The important work of investigating the Russian involvement in our election never subsided, but we have a fresh opportunity to move forward in the unified and nonpartisan way that an investigation of this seriousness demands," Schiff said.
One member of the committee told BuzzFeed News that at a Thursday morning meeting Nunes said nothing about the recusal and most found out when the news broke.
"I did not wake up this morning believing that he would do that today," another member, Rep. Denny Heck, told BuzzFeed News.
In a statement, Speaker Paul Ryan said he supported Nunes' decision to stand aside but believed he had done nothing wrong.
"It is clear that this process would be a distraction for the House Intelligence Committee's investigation into Russian interference in our election," Ryan said.
Rep. Elijah Cummings, the top Democrat on the House Committee on Oversight and Government Reform, told BuzzFeed News there was "no doubt" the House Intelligence Committee's investigation would be more effective without Nunes, compared to their counterparts in the Senate who are also investigating Russia.
"I just hated the idea that the House was not in play," he said. "We were basically handcuffed because of Nunes."
Source: https://www.buzzfeed.com/usnews.xml