Supreet Kaur, an Indian news anchor read out a report of her husband's death in an accident during a live news broadcast.
This is Supreet Kaur, a 28-year-old news anchor for IBC24, a regional news channel in India.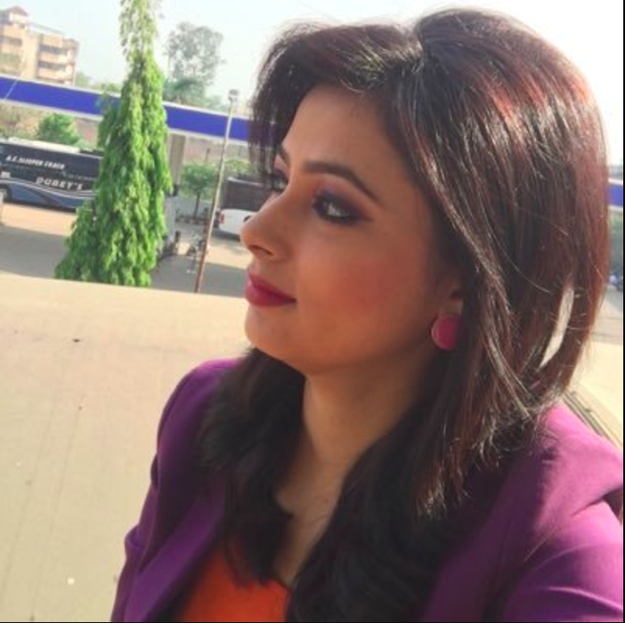 Kaur got married a year ago to Harshad Kawade and lived with him in Raipur in the state of Chhattisgarh.
Twitter
While reading out a breaking news report of a car accident during Saturday morning's live broadcast, Kaur realized that one of the victims was her husband, but managed to keep her composure during the entire segment.
[youtube https://www.youtube.com/watch?v=OQTL1b4SW9s&w=560&h=349]
Kaur broke news of the highway accident in which three people died and two were severely injured. At the time, she was unaware that her husband was one of the victims, according to IBC24.
She then spoke to a local reporter on the phone who provided more details about the accident.
Although the reporter did not identify the victims, the details of the accident —such as the type of car and the location of the crash — made Kaur realize that her husband was involved in the accident.
The production team had already found out about her husband's death while she read the news, but "did not have the courage" to tell her, an editor told the Hindustan Times.
Even after realizing her husband was one of the victims, Kaur continued to report on the story and finish the live news segment, IBC24 said.
Once the cameras were off, Kaur finally broke down and began to call her relatives, according to her coworkers.
She then left for the site of the accident.
"It speaks volumes about her sense of duty and professionalism that she continued and kept her calm for another 10 minutes,'' an IBC24 editor told the Indian Express.
"IBC24 salutes Kaur's courage and attitude," another IBC24 anchor said.
People praised Kaur for her "amazing grace" and composure after learning about her husband's death.
---
Source: https://www.buzzfeed.com/usnews.xml