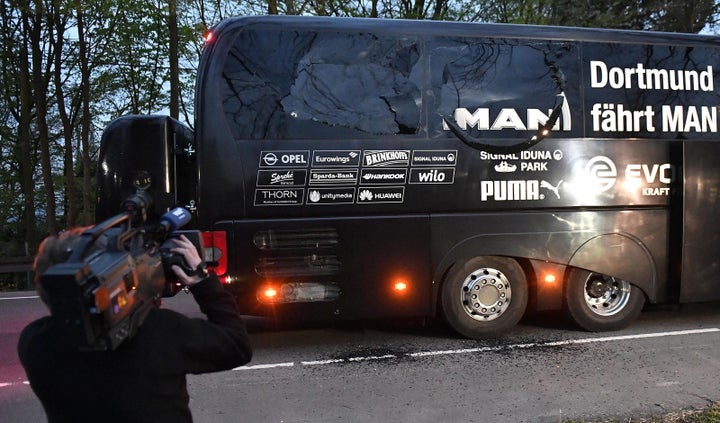 Martin Meissner / AP
Three explosions hit a bus carrying a German soccer team Tuesday, injuring one of the players on board in a targeted attack, police said.
The team, Borussia Dortmund, was on its way to a quarterfinal match against Monaco when the explosions occurred just after 7 p.m. as players were departing from a hotel for the stadium.
Police in the German city of Dortmund referred to the three blasts as "serious explosions" but would not speculate on the motive behind the attack.
"We must now try to process the shock," Borussia Dortumnd owner Hans-Joachim Watzke said in a statement.
In a late-night press conference, Dortmund Police Chief Gregor Lange said the team appeared to have been targeted by the explosions, the Associated Press reported. A German prosecutor said a letter found near the blasts "takes responsibility for the act," but would not elaborate.
Images of the bus after the explosion showed a broken window toward the rear of the vehicle and police said the explosions might have been hidden in a hedge near the parking lot.
The team identified the player injured in the explosion as Marc Bartra, who plays center-back.
He appeared to have injured his wrist from debris in the explosion and was undergoing surgery Tuesday night.
FIFA, the international soccer association, said it was waiting for more details about the attack.
"The thoughts of every one of us at FIFA are with the people of Dortmund, and the fans of both Borussia Dortmund and Monaco following today's troubling events," FIFA President Gianni Infantino said in a statement. "FIFA condemn the incidents in Dortmund. We are all awaiting further details of the incident."
The match against Monaco was postponed until Wednesday evening, the team announced.
It was not immediately clear if Bartra would be able to play in the upcoming game.
Source: https://www.buzzfeed.com/usnews.xml