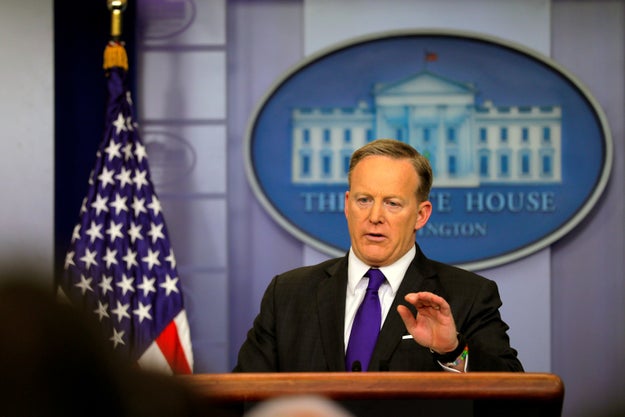 Jonathan Ernst / Reuters
White House press secretary Sean Spicer on Tuesday called the video of a passenger being dragged off a United Airlines flight "troubling."
"From a human-to-human standpoint, to watch a human being get dragged down an aisle with their head banging off arm rests, and not think that it could have been handled better, I would assume that — and we could probably all agree on that," he said.
Video footage of the incident went viral Monday, spurring outrage on social media. Millions of Chinese people have also expressed anger over the treatment of the Asian-American man, with many demanding a boycott of the airline.
The airline's chief executive issued a statement apologizing for "having to re-accommodate" customers from the overbooked flight, adding that the airline is conducting its own detailed review of the incident. And the Department of Transportation also said it was reviewing whether United followed consumer protection regulations.
On Tuesday, Spicer cautioned against getting ahead of where the reviews go.
"It was an unfortunate incident. Clearly, when you watch the video, it is troubling to see how that was handled, but I'm not going to — they have clearly stated their desire to review the situation," he said. "Law enforcement is reviewing it and for us to start to get in front of what should be a very simple— a local matter, not necessarily not needing a federal response."
Asked if President Trump had seen the video, Spicer said, "I'm sure he has."
"I don't think anyone looks at that video isn't disturbed," he added.
United Airlines also took a hit on the financial market Tuesday, with its stock trading down by almost 4% at one point. By midday, however, it was down about 3%, meaning the airline was worth about $600 million less than it was at the close of trading on Monday.
This is a developing story. Check back for updates and follow BuzzFeed News on Twitter.
LINK: A Man Was Dragged Off A United Plane After The Airline Overbooked The Flight
LINK: United Airlines Re-Accomodated $1 Billion Of Shareholder Value This Morning
Source: https://www.buzzfeed.com/usnews.xml