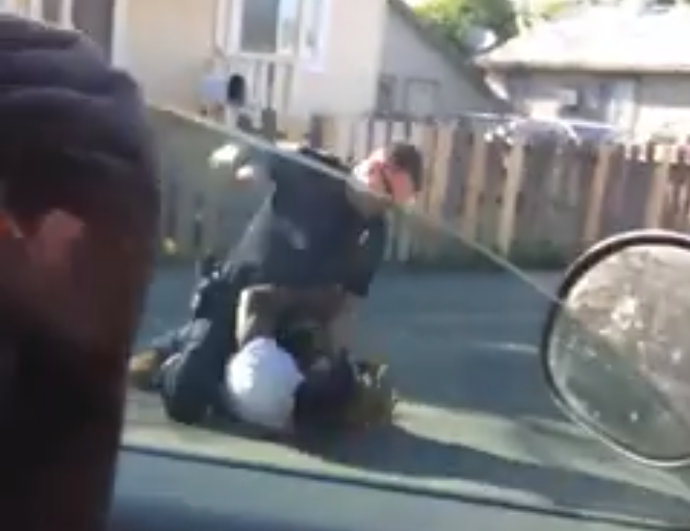 A California police officer was captured on video Monday tackling a pedestrian to the ground and punching him repeatedly in the face after the man questioned why he was being stopped.
Police dash cam video of the incident shows the officer, who is white, getting out of his patrol car and trying to stop a black man walking along a sidewalk in a Sacramento neighborhood.
"Come here, bud," the officer can be heard saying.
The man's response is not audible, but the officer is heard replying, "I do, you were jaywalking."
The man continues to walk despite the officer behind him.
"Stop right now, before I take you to the ground," the officer says.
"You pulled me over for nothing," the man replies.
Video then shows the officer tackling the man, identified by local media as 24-year-old Nandi Cain Jr., to the ground and punching him repeatedly.
Sacramento Police
Sacramento Police called the violent encounter "unacceptable conduct" and said a personnel and criminal investigation had been launched into the officer's actions.
"The actions of the involved Sacramento Police Officer are disturbing and does not appear to be reasonable based upon the circumstances," a statement released Tuesday by the department read. "The actions that were observed are not indicative of the dedicated women and men who work for the Department."
A police investigation was launched after the officer's dash cam video was reviewed, showing the initial stop and use of force, the department said. Investigative staff determined the officer did not have sufficient grounds to make the initial stop.
"I thought I was going to be like the next Trayvon Martin," Cain told CBS13 about the incident.
Video captured by Naomi Montaie, who calls Cain "nephew," shows the officer reaching for Cain's neck and tossing him onto the ground. Once on the ground, the officer can be seen delivering multiple punches to the man's face.
Sacramento Police did not release the name of the officer involved, but described him as a two-year veteran of the department.
He was placed on administrative leave with pay, the department said.
Police said Cain was originally arrested on suspicion of resisting arrest and an outstanding warrant. He was released early Tuesday morning and given a court date for his outstanding warrant, police said.
No other charges were filed against him.
Sacramento Police
Source: https://www.buzzfeed.com/usnews.xml