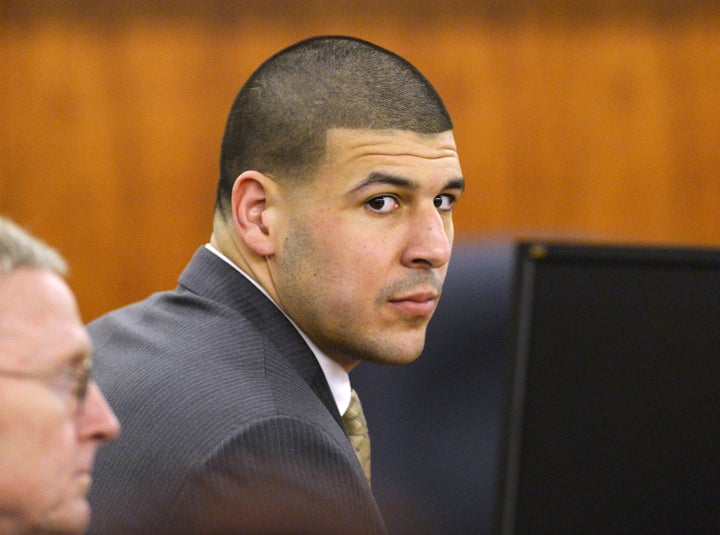 Pool New / Reuters
Former New England Patriot Aaron Hernandez wiped away tears Friday as a jury cleared him of murdering two men on a Boston street in 2012.
A Suffolk County jury acquitted Hernandez, 27, on two counts of first-degree murder stemming from a drive-by shooting in Boston's South End. The shooting, which happened in the early morning hours of July 16, left Daniel de Abreu and Safiro Furtado dead.
Prosecutors had argued that de Abreu spilled a drink on Hernandez at a night club hours before the shooting, enraging the football player and prompting him to open fire later while stopped at a traffic light. According to the Boston Globe, prosecutors relied heavily on the testimony of Alexander Bradley, Hernandez's former friend who is behind bars for an unrelated shooting at another night club.
Bradley testified that he was driving the car from which Hernandez fired at de Abreu's vehicle.
Defense lawyers attacked Bradley's credibility and, with Friday's verdict, the jury ultimately rejected his version of events.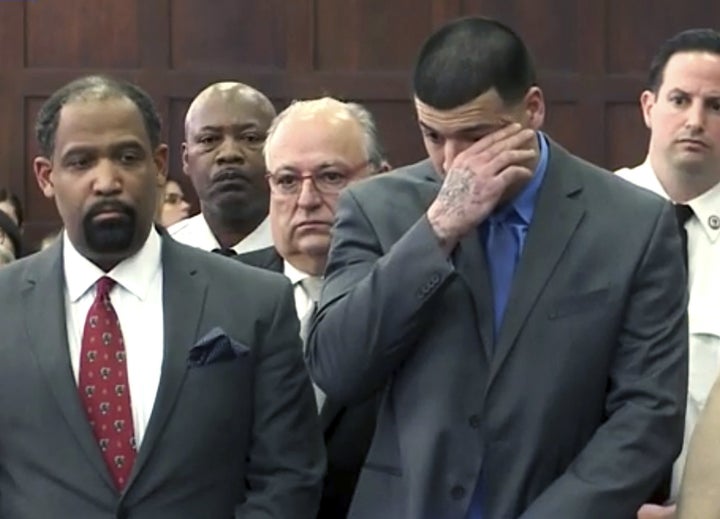 Aaron Hernandez, right, wipes his eyes in court Friday.
/ AP
The jury also cleared Hernandez of one count of witness intimidation, but found him guilty of illegal possession of a firearm. The judge ordered him to serve 4 to 5 years for the gun conviction, the Globe reported.
After Friday's verdict, Hernandez, dressed in a suit and visibly emotional, hugged members of his defense team.
Hernandez is already serving life in prison after being found guilty of killing 27-year-old semi-pro football player Odin Lloyd. That shooting happened in 2013, and Hernandez was convicted in 2015.
A grand jury indicted Hernandez for the double murder in 2014.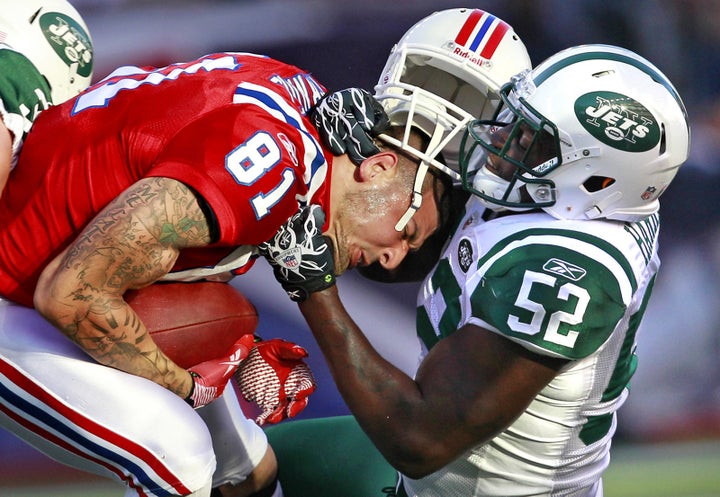 Hernandez (81) hangs on to the ball while being tackled during a game on Oct. 9, 2011.
Elise Amendola / AP
Hernandez joined the Patriots as a tight end in 2010.
In 2012 — just months after the shooting that killed de Abreu and Furtado — Hernandez signed a five-year contract with the Patriots worth $40 million. But less than a year later, in June 2013, he was arrested and charged in Lloyd's death. The Patriots released him within hours of his arrest.
After the jury cleared Hernandez Friday in the double murder, one of his attorneys, Ronald Sullivan, applauded the outcome.
"It was the only fair and just verdict,'' Sullivan told the Globe. "Mr. Hernandez was wrongly accused of these crimes.''
LINK: Aaron Hernandez's Lawyers Want To Know If One Of His Jurors Called Him A "Thug"
LINK: Aaron Hernandez Charged For Allegedly Shooting Friend In The Face
Source: https://www.buzzfeed.com/usnews.xml