Students are fighting back at what they say is a rise in anti-Semitism on the Alabama university campus, where a "White Student Union" has also been distributing material.
Students at Alabama's Auburn University are speaking out after white nationalist leader Richard Spencer announced an upcoming speech on campus, where a "White Student Union" has also been distributing materials. University officials canceled the event on Friday, but Spencer said he would come anyway.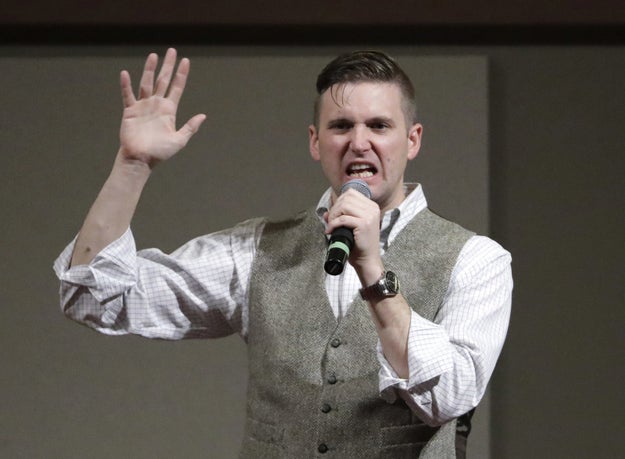 Spencer is president of white supremacist think tank National Policy Institute and a leader of the alt-right movement. He has called for "peaceful ethnic cleansing" of non-white Americans.
Spencer rose to prominence during the annual NPI conference in November in Washington, DC, when he gave a speech full of Nazi-inspired language, greeting attendees with a salute of "Hail Trump! Hail our people! Hail victory!" and calling the media "Lügenpresse" (essentially the Nazi term for "fake news"). He also found viral fame when he got punched in the face on Inauguration Day.
The April 18 speech by Spencer was not planned by the Alabama university. Rather, Spencer reportedly paid $700 to use the space, as well as security provided by Auburn Police Division, a university spokesperson told al.com.
"We are a public university and our meeting space is for rent," Mike Clardy, a spokesperson for Auburn, told the news website. "Auburn supports the constitutional right to free speech, so we don't make decisions on who can rent based on content."
In a statement, university officials say they "strongly deplore" Spencer's views and "encourage the campus community to respond to speech they find objectionable with their own views in civil discourse and to do so with respect and inclusion."
David J. Phillip / AP
The school released a statement on Friday, announcing Spencer's speech had been canceled due to "legitimate concerns and credible evidence that it will jeopardize the safety of students, faculty, staff, and visitors."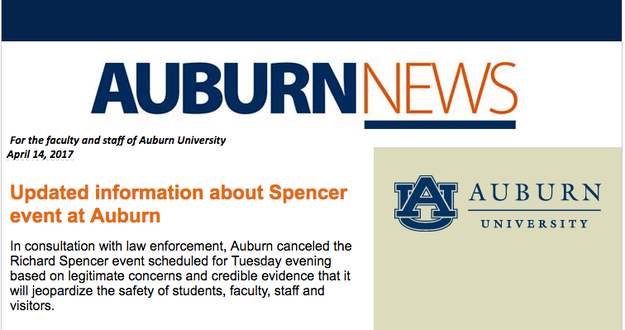 Auburn University
"Auburn made a stupid decision," he said. "I think they might have genuinely believed that I would back down and just go away. They could've done cursory research about me and realized that I'd never do that. This is going to be much more problematic and difficult for them."
"I will be on the Auburn University campus at 7 PM on Tuesday, April 18th," he vowed. "And I will hold a speech."
The initial announcement of Spencer's speech came on the heels of the forming of an "Auburn White Student Union," which covered the campus in anti-Semitic flyers late last week, right before Passover.
"The agenda of a 'White Student Union' is very similar to white nationalism," explained Lecia Brooks, the outreach director for Southern Poverty Law Center, to BuzzFeed News. "It's kind of wrapped in the false equivalency between Black Student Unions and White Student Unions."
"People get caught up…like, 'Oh well, Black Student Union, Latino Student Union, what's the difference?'" she said. "Well, one is based in white supremacy and the other is not. The other is more of a cultural support group and cultural enrichment, where as White Student Unions are based in white supremacy."
---
Source: https://www.buzzfeed.com/usnews.xml