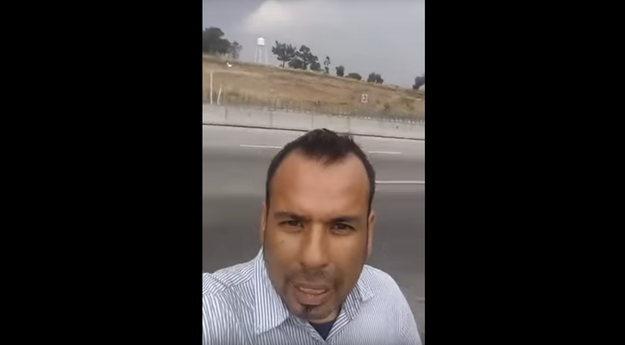 Facebook
Standing on the side of a busy Mexican highway, a Southern California immigrant rights activist turned his Facebook Live to beg for help, saying a group of criminals had been chasing him for days.
"I seriously need help," Hugo Castro, a US citizen who works with the San Diego-based Border Angels, said in Spanish on Thursday. "My battery is going to die, I'm not going to move from here."
He hasn't been seen since.
In a statement, Border Angels, which advocates for immigrant rights on the US-Mexico border, said Castro disappeared somewhere between Mexico City and Puebla.
Gabriela Cortes / Via facebook.com
In the video, Castro said he was at Kilometer 37 of the highway heading toward Puebla after joining a caravan following a group of Central American asylum seekers as they made their way to the US border.
Castro said the group of criminals, which he did not specifically identify, had been following him for days in freight vehicles, passing him and waiting for him up ahead at various points. He then pointed his phone to a gas station coming up on the road, saying a group was waiting for him there.
"I thought I was going to be smarter than them, they're a very powerful group," Castro said.
Enrique Morones, founder and director of Border Angels, said he took Castro to the border and was in touch with him for a couple of days before he suddenly went radio silent.
"I'm very worried about Hugo," Morones told BuzzFeed News. "He did communicate with someone on Friday from a cab in Mexico City and that's the last we heard of him."
On Sunday, his wife Gabriela Cortes wrote on Facebook that they had been able to file a formal complaint with the attorney general's office in Mexico City.
"We're waiting to see if they can view security cameras the city uses," she wrote.
The attorney general's office could not immediately be reached for comment.
Source: https://www.buzzfeed.com/usnews.xml