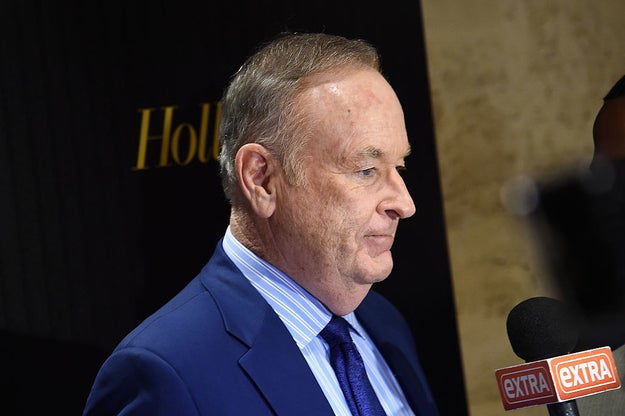 Ilya S. Savenok / Getty Images
Another woman has come forward to report abusive behavior by Fox News anchor Bill O'Reilly, alleging he constantly berated her and at one point called her "hot chocolate."
At the time the alleged abuse occurred in 2008, the black clerical worker worked for a different broadcaster, but O'Reilly's office was near her desk, putting her within daily striking distance when others weren't around, her attorney, Lisa Bloom, said Tuesday.
"He wouldn't speak to her other than to say to things like "Mmmmmhhhh," make grunting noises like an animal, she alleges, leering at her, looking at her cleavage and her legs and would call her 'hot chocolate,' which she found to be very offense," Bloom told HLN's Erica Hill.
Bloom helped the woman, who was not identified, report the harassment to the network's hotline. Until recent coverage of other harassment allegations against The O'Reilly Factor host, the woman had been to afraid to file a complaint, Bloom said.
"She wanted to keep her job, she didn't complain at the time, but now she knows that Fox News is considering whether or not to keep him," Bloom added.
In a statement, O'Reilly's attorney, Marc Kasowitz, called the latest allegation "outrageous" and yet another attempt to destroy his client's reputation.
"It is outrageous that an allegation from an anonymous person about something that purportedly happened almost a decade ago is being treated as fact, especially where there is obviously an orchestrated campaign by activists and lawyers to destroy Mr. O'Reilly and enrich themselves through publicity driven donations," the attorney said in a statement provided to BuzzFeed News.
The controversy surrounding the 67-year-old host erupted April 1 when the New York Times reported that five women received about $13 million to settle harassment allegations against O'Reilly, who has denied the claims.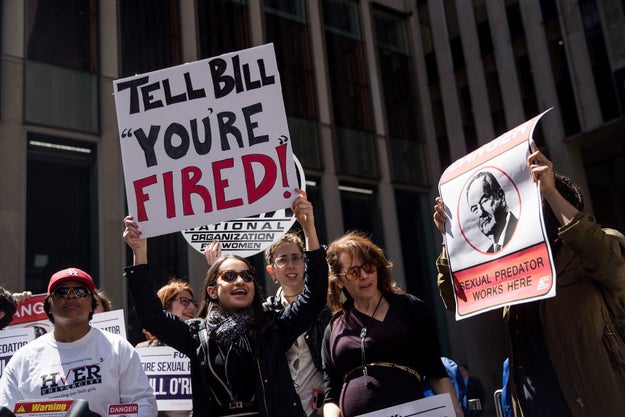 Demonstrators rally against Fox News anchor Bill O'Reilly outside of the News Corp. headquarters in Manhattan on April 18, 2017.
Drew Angerer / Getty Images
Speculation that O'Reilly may not survive the scandal has grown with each passing day.
O'Reilly went on vacation just days after the network's parent company, 21st Century Fox, said it had hired an outside firm to investigate sexual harassment claims against the top-rated anchor.
Dr. Wendy Walsh, a radio talk show host in Los Angeles, also called the network's anonymous tip line and detailed the alleged harassment by O'Reilly. She posted the entire exchange on YouTube.
Fox Chairman Rupert Murdoch, who assumed control after former chief Roger Ailes was ousted in response to his own sexual harassment controversy, and his two sons have been spending that time deciding the anchor's fate as many advertisers continue to boycott the program.
Bloom has also requested the New York State Division of Human Rights to intervene as protesters stage demonstrations outside the network's headquarters.
The drip-drip of harassment allegations have also fueled critics who question whether the Murdochs are committed to changing the company culture in the wake of Ailes being pushed out.
Members of UltraViolet and Color of Change also announced Tuesday that they had delivered more than 480,000 signatures to Fox News headquarters calling for O'Reilly to be fired.
LINK: Bill O'Reilly Is Running Out Of Friends
LINK: Bill O'Reilly Will Be Investigated For Sexual Harassment
Source: https://www.buzzfeed.com/usnews.xml