Alt-right leader Richard Spencer spoke at Auburn Tuesday evening, even though the Alabama University canceled his event due to safety concerns.
Watch Richard Spencer's event at Auburn University live:
A federal judge in Alabama has ordered Auburn University to allow white nationalist leader Richard Spencer to speak on Tuesday after a man sued the state school, claiming it violated free speech rights by canceling the event.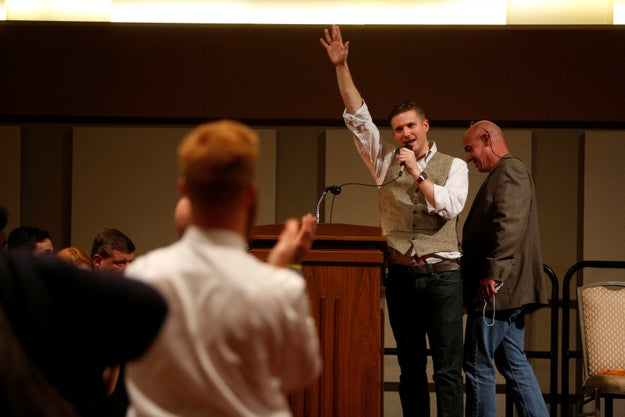 Spencer Selvidge / Reuters
A person listed as Cameron Padgett filed the complaint Tuesday morning, claiming the Auburn University violated the First and Fourteenth amendments by canceling Spencer's appearance at the student union, according to the complaint.
"This was about our right to free speech," Padgett said, thanking the judge before Spencer took the floor Tuesday night.
Padgett, who says he is from Georgia and identifies as a libertarian, rented the auditorium where Spencer planned to speak and, since it is a public institution — and because he complied with all the university's conditions — the alt-right leader's event should have never been canceled.
"Auburn is not allowed to pick and choose what views are to be represented in a facility open to the general public for holding meetings and giving and hearing speeches," Padgett stated in the complaint.
The university initially canceled Spencer's event over safety concerns.
Judge Wallace Capel, Jr. later agreed, noting that the right to freedom of speech means "nothing if it is restricted to popular or conventional speech."
And since Auburn is funded by the state, it is not allowed to cancel the white nationalist's event just because it disagreed with his views. To get around that, Auburn had to have proven that the speech would incite immediate violence or unrest, which it did not.
---
Source: https://www.buzzfeed.com/usnews.xml