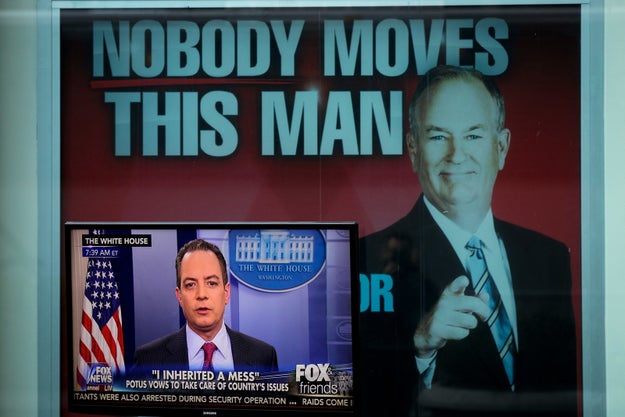 Drew Angerer / Getty Images
Bill O'Reilly is out at Fox News amid several sexual harassment allegations against him, the company said in a statement.
He was scheduled to return from a vacation on Monday, but that will no longer happen.
"After a thorough and careful review of the allegations, the Company and Bill O'Reilly have agreed that Bill O'Reilly will not be returning to the Fox News Channel," the statement said.
Attorney Lisa Bloom, who represents Wendy Walsh, who has accused O'Reilly of becoming hostile after she didn't return to his hotel room with him, said in a statement: "This is what happens when women speak our truth: we can slay dragons. I am very proud to have stood with my brave clients who stood up for themselves and all the silenced women.
"Fox News should have fired him in 2004 when Andrea Mackris spoke out, but at least they did it now. They did it because we persisted."
Several reporters tweeted an internal email from Fox owner Rupert Murdoch and his sons, Lachlan and James, saying, "This decision follows an extensive review done in collaboration with outside counsel."
"By ratings standards, Bill O'Reilly is one of the most accomplished TV personalities in the history of cable news. In fact, his success by any measure is indisputable," the email read, adding, "We have full confidence that the network will continue to be a powerhouse in cable news."
NPR is reporting that Tucker Carlson will taken his 8pm ET slot. New York Magazine is reporting The Five will move to 9pm.
Media Matters President Angelo Carusone, who also ran the @StopOReilly Twitter account that pressured advertisers to abandon the show, said: "Fox News was forced to act. They had years to address serial sexual harassment at Fox News. They didn't; they actually enabled it. So, individuals and groups took action to educate advertisers.
"Without advertisers, Bill O'Reilly's show was no longer commercially viable," the statement added.
This is a developing story. Check back for updates and follow BuzzFeed News on Twitter.
Source: https://www.buzzfeed.com/usnews.xml