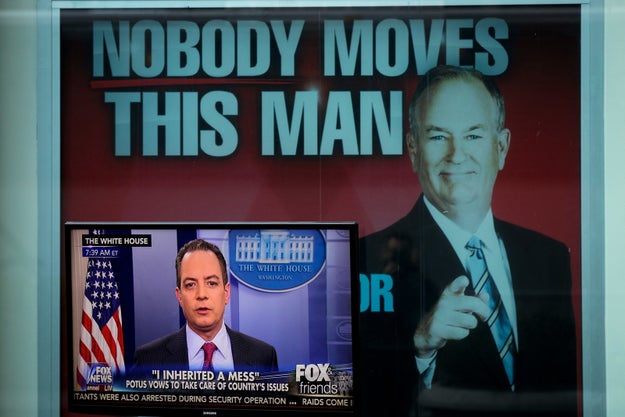 Drew Angerer / Getty Images
Bill O'Reilly is out at Fox News amid several sexual harassment allegations against him, the company announced Wednesday.
"After a thorough and careful review of the allegations, the company and Bill O'Reilly have agreed that Bill O'Reilly will not be returning to the Fox News Channel," the statement from 21st Century Fox said.
O'Reilly's exit marks a stunning downfall for one of the most preeminent forces in cable news who has long reigned as the genre's most-watched host. The New York Times reported earlier this month that $13 million had been paid to five women to settle harassment allegations against O'Reilly, who has denied the claims, setting in motion an advertising boycott and protests outside of the network's Midtown Manhattan headquarters.
The 67-year-old host, who had remained mostly silent throughout the controversy, released a statement hours after Fox made its announcement:
Over the past 20 years at Fox News, I have been extremely proud to launch and lead one of the most successful news programs in history, which has consistently informed and entertained millions of Americans and significantly contributed to building Fox into the dominant news network in television.
It is tremendously disheartening that we part ways due to completely unfounded claims. But that is the unfortunate reality many of us in the public eye must live with today.
I will always look back on my time at Fox with great pride in the unprecedented success we achieved and with my deepest gratitude to all my dedicated viewers. I wish only the best for Fox News Channel.
Lisa Bloom, an attorney for Wendy Walsh, who has accused O'Reilly of becoming hostile after she didn't accompany him to his hotel room, said the outcome is what happens "when women speak our truth: we can slay dragons."
"I am very proud to have stood with my brave clients who stood up for themselves and all the silenced women," Bloom said in her statement. "Fox News should have fired him in 2004 when Andrea Mackris spoke out, but at least they did it now. They did it because we persisted."
Rebecca Diamond, who received a payout from O'Reilly after she said that he had sexually harassed her, tweeted, "Wow, big news day…I have merit."
Diamond left Fox in 2011.
Former Fox News anchor Gretchen Carlson, who drew attention to the network's sexual harassment issues by suing former chief Roger Ailes last year, tweeted: "No more silencing women!"
O'Reilly's departure was only briefly mentioned on Fox News Wednesday by Howard Kurtz, who discussed his network dropping its biggest star Wednesday night on Special Report.
"Some female employees felt uncomfortable with O'Reilly staying on," he said.
Tucker Carlson, who currently airs at 9 p.m. ET, will take over The O'Reilly Factor's 8 p.m. time slot. The Five, another Fox program, will move to 9 p.m.
Fox News had faced mounting pressure from more than 70 advertisers who had pulled their commercials from The O'Reilly Factor as revelations about sexual harassment allegations continued to mount. In attempt to stem the financial losses, Fox had said it "re-expressed" commercials into other programs, but ad buyers told BuzzFeed News that their clients were unlikely to return to the show unless Fox acted on O'Reilly.
Rumors had swirled internally at Fox that O'Reilly's days were numbered ever since he left April 11 for a vacation in Italy. While the network and O'Reilly said the trip was preplanned, staffers at the network were dubious and believed that it helped give interim CEO Rupert Murdoch and his two sons, James and Lachlan, more time to decide on the top-rated anchor's future.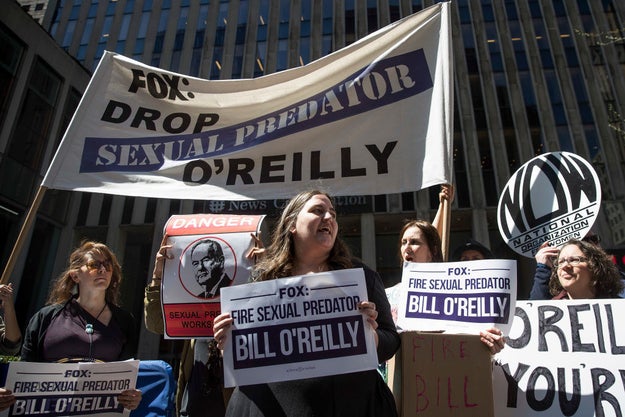 Demonstrators rally against Bill O'Reilly outside of the News Corp headquarters in Manhattan on April 18.
Drew Angerer / Getty Images
A towering figure inside of Fox News, O'Reilly made few friends at the network, a reality that stoked rumors about his possible exit. Like Ailes, whose swift downfall stunned the media world last summer, O'Reilly has long been thought of as invincible within Fox's headquarters. Indeed, when the New York Times story broke, the network appeared poised to defend the host, who has been a major revenue driver for years.
President Trump had also defended the conservative talk show host, calling O'Reilly "a good person" who "didn't do anything wrong," and that he shouldn't have settled sexual harassment claims in the first place.
Fox News sources said that the choice ultimately came down to Rupert Murdoch, who controls 21st Century Fox and has been leading the network since Ailes was ousted last summer.
Several reporters tweeted an internal email from Murdoch and his sons, Lachlan and James, saying the decision followed an "extensive review" done in collaboration with outside counsel.
"By ratings standards, Bill O'Reilly is one of the most accomplished TV personalities in the history of cable news. In fact, his success by any measure is indisputable," the email stated, adding, "We have full confidence that the network will continue to be a powerhouse in cable news."
The question now will be whether the network can maintain strong ratings for the time slot — O'Reilly has been a fan favorite among the Fox faithful for years. A Fox News source said that after the decision to separate with O'Reilly was announced Wednesday, the phones have been ringing off the hook with viewer complaints.
Media Matters President Angelo Carusone, who also ran the @StopOReilly Twitter account that pressured advertisers to abandon the show, said: "Fox News was forced to act. They had years to address serial sexual harassment at Fox News. They didn't; they actually enabled it. So, individuals and groups took action to educate advertisers.
"Without advertisers, Bill O'Reilly's show was no longer commercially viable," the statement added.
Source: https://www.buzzfeed.com/usnews.xml