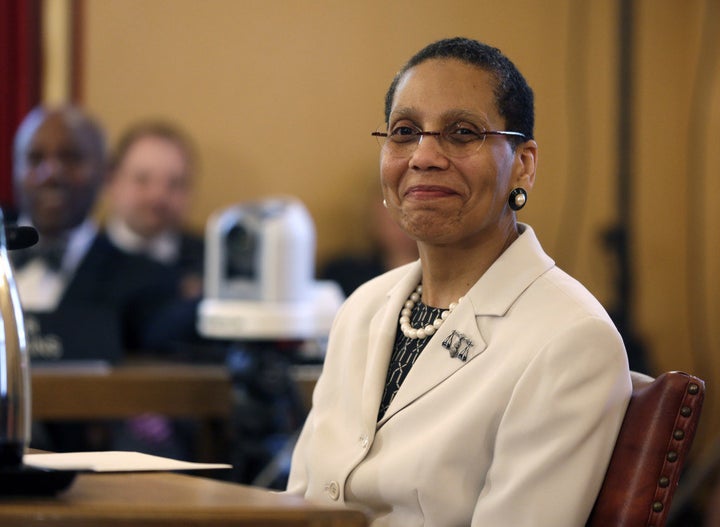 Mike Groll / AP
A week after a judge on New York's highest court was found in the Hudson River, police are still piecing together what happened before she died.
Initial reports suggested that Judge Sheila Abdul-Salaam, the first black woman to sit on New York's Court of Appeals, may have killed herself on April 12. Her body was found in the Hudson River off Manhattan, not far from her home in Harlem. Her husband had earlier reported her missing after being notified she had not shown up for work.
On Tuesday, a NYPD spokesperson told BuzzFeed News her death was being investigated as suspicious. There was no evidence of criminality, according to the NYPD, but it could not yet be ruled out. The news was first reported by the New York Post.
A medical examiner has yet to officially determine her cause of death.
For now, police are asking anyone who saw Abdul-Salaam in her final days to come forward. The 65-year-old was last seen wearing a charcoal gray zip-up sweatshirt with "Canada" in red letters across the chest. She was also wearing black sweatpants, white ankle socks, and New Balance sneakers.
Abdul-Salaam left her home without her cell phone or wallet, and her body was found without signs of trauma, police have said.
The timing of her death also drew comparisons to previous family tragedies. Her mother had committed suicide in 2012, and her brother also died by suicide in 2014, the New York Times reported.
LINK: The Life And Tragic Death Of The First Black Female Judge On New York's Highest Court
Source: https://www.buzzfeed.com/usnews.xml