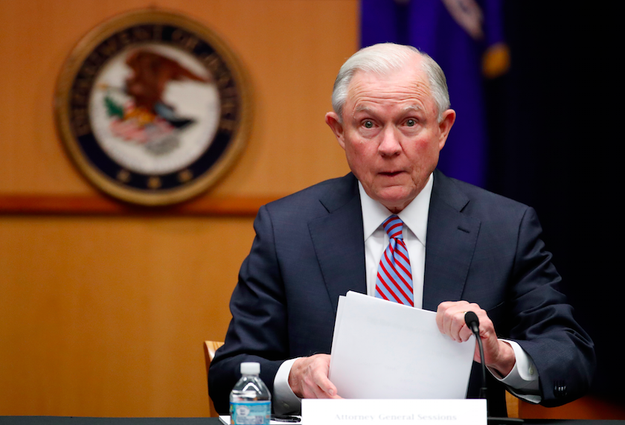 Attorney General Jeff Sessions
AP
President's Trump's Department of Justice sent a warning to nine jurisdictions Friday as part of the administration's promise to crackdown on "sanctuary cities."
In a letter from the Justice Department, officials asked for proof that the cities are cooperating with immigration enforcement, noting that they are at risk of losing funds from federal grants.
The letters were addressed to officials in New York, Chicago, Philadelphia, New Orleans, Las Vegas, Miami, Milwaukee, Illinois' Cook County, and the California Board of State and Community Corrections.
Each jurisdiction has said that it will not share with federal officials immigration information on those in custody who are in the country illegally.
The DOJ letter calls for each jurisdiction to submit proof by June 30 that they are complying with the Trump administration's enforcement strategy. Failing to do so, the letter says, "could result in the withholding of [2016] grant funds, suspension or termination of the grant, [or] ineligibility for future" federal funding programs.
The DOJ made the letters public on Friday. In a press release accompanying the letter, the department wrote, "many of these jurisdictions are also crumbling under the weight of illegal immigration and violent crime":
The number of murders in Chicago has skyrocketed, rising more than 50 percent from the 2015 levels. New York City continues to see gang murder after gang murder, the predictable consequence of the city's "soft on crime" stance. And just several weeks ago in California's Bay Area, after a raid captured 11 MS-13 members on charges including murder, extortion and drug trafficking, city officials seemed more concerned with reassuring illegal immigrants that the raid was unrelated to immigration than with warning other MS-13 members that they were next.
Despite this claim that New York is "soft on crime," last month NYPD Commissioner James O'Neill announced "historic reductions in crime" through the first three months of 2017. In a report, the NYPD cited a 8.7% drop in crime overall in March compared to last year. Police also said that the city had the "safest first quarter" of the modern crime-tracking era. (The 2016 murder rate in Chicago, however, did increase by 58% over the previous year).
Officials from New York and other cities have been vocal about their intentions to resist the Trump administration's immigration enforcement mandate, saying they're prepared to go to court over the "sanctuary city" issue. Last month, Seattle sued Trump over the "sanctuary city" threat.
On Friday, Seth Stein, a spokesperson for New York Mayor Bill de Blasio, blasted the Trump administration over the letter.
"This is nothing new. This grandstanding shows how out of touch the Trump administration is with reality," Stein said in a statement to Politico. "Contrary to their alternative facts, New York is the safest big city in the country, with crime at record lows in large part because we have policies in place to encourage cooperation between NYPD and immigrant communities."
Source: https://www.buzzfeed.com/usnews.xml