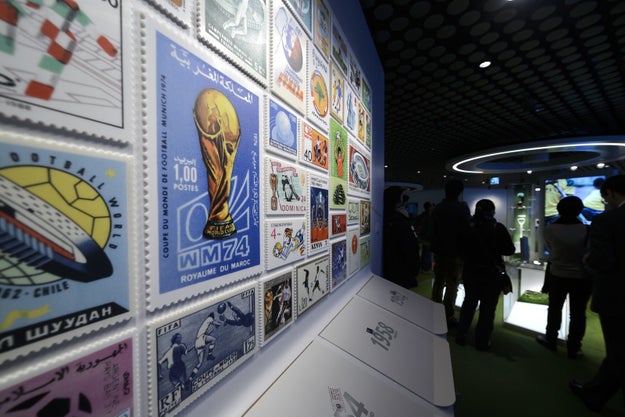 Fabrice Coffrini / AFP / Getty Images
The president of Guam's Football Association pleaded guilty on Thursday to two counts of wire fraud for accepting bribes as part of a massive and ongoing investigation into professional soccer.
Richard Lai's guilty plea is part of a sprawling criminal case that generated enormous global publicity when it first emerged in late spring, 2015, has been relatively quiet for some time. That fueled widespread speculation that the case was winding down and was no longer an active investigation, particularly given the change in Attorney General under the new Trump Administration.
But Thursday's plea suggests that, in fact, the probe has continued, albeit very quietly. Prior to this week, the last time a new defendant was charged in the case was more than a year ago, in March 2016, when Colombian Miguel Trujillo pleaded guilty to four counts of wire fraud conspiracy, money laundering conspiracy, and tax fraud.
In a federal courtroom in Brooklyn on Thursday, Lai said he accepted bribes amounting to $100,000 in 2011 from a candidate for the FIFA presidency in return for his support and vote. (The candidate was ultimately suspended from FIFA for giving bribes to someone else so he never completed candidacy.)
Lai said he never disclosed receiving 100,000 — which came from an account in Qatar and was deposited to Lai's bank in the Philippines — despite knowing that the candidate was being investigated by FIFA at the time.
Lai's guilty plea takes the case to another region of the world, Asia, which has not been scrutinized until now. It also turns the focus to the 2022 World Cup voting, which was awarded to Qatar — and which the US had been bidding for.
Lai also said he also received bribes from a member of Kuwait Football Association to reduce the influence and authority of another member of the Asian Football Confederation. The bribes were masked as payments to hire a coach for Guam — but Lai said the money was ultimately deposited in his personal account.
"I never used those funds to pay for a coach for Guam … I kept it for myself and never told anyone," Lai said in court.
The wider investigation into FIFA, which took years to develop, had not touched those issues before.
The overall case was championed by former Attorney General Loretta Lynch, who oversaw the case's inception and development as the U.S. Attorney for the Eastern District of New York in Brooklyn.
President Obama named her Attorney General in early 2015, just months before the FIFA case became public early on the morning of May 27, 2015, when Swiss police raided a luxury hotel in Zurich, arresting seven soccer officials at the behest of U.S. law enforcement. An indictment unsealed that day described FIFA and related soccer governance bodies as a vast criminal conspiracy to pay bribes for television rights and to rig votes determining where World Cups would be held. The indictment named 14 defendants from nearly a dozen countries in North and South America, accusing them of a variety of crimes ranging from racketeering to money laundering to immigration fraud.
A second indictment, accusing 27 additional people, was unsealed the following December, after several more soccer administrators were scooped up in another raid at the exact same Zurich hotel. The new charges pushed the total number of defendants past 40. In addition, several other individuals have pleaded guilty in related actions.
To date, 21 soccer officials or sports marketing executives have pleaded guilty in the case, including US citizens Chuck Blazer and Aaron Davidson, and most, if not all, have agreed to cooperate with the Justice Department's investigation. They have also pledged to forfeit hundreds of millions of dollars to the Department of Justice.
A number of others, however, remain outside the U.S. and are either fighting extradition or, in the case of several charged Brazilians, live in a country that does not extradite its citizens. Late last year, a judge in Argentina ruled against extraditing three defendants.
Currently, five defendants — from Brazil, Paraguay, Guatemala, the United Kingdom, and Peru — have been arraigned in the U.S. and continue to plead not guilty. They are scheduled to face a trial starting in early November.
But some of the biggest names in international soccer, including former FIFA president Joseph "Sepp" Blatter and former FIFA general secretary Jerome Valcke have not been charged by the Justice Department.
As a Swiss citizen, Blatter cannot be extradited to the U.S. However, the Swiss Attorney General launched its own probe in late 2015 and has said that Blatter is a target. That investigation is ongoing.
Several other countries have also launched their own criminal investigations into soccer corruption in the wake of the US actions, and the case has spurred a spate of civil litigation as well. Last week, for example, the regional soccer confederation governing the sport in North and Central America as well as the Caribbean filed a federal lawsuit against Blazer and Trinidadian Jack Blazer, the body's former general secretary and president, respectively. The suit, seeking at least $20 million for fraud, plus punitive damages, was entered in Brooklyn's Eastern District.
Source: https://www.buzzfeed.com/usnews.xml