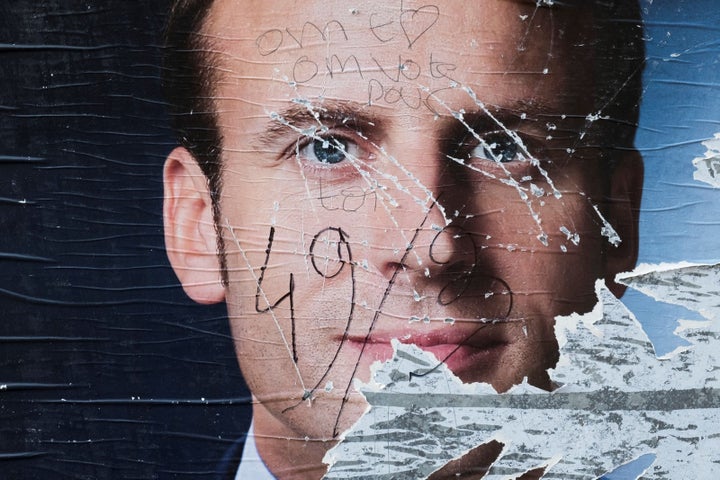 A defaced Macron poster in Paris.
Joel Saget / AFP / Getty Images
In news that will seem rather familiar to anyone who endured the 2016 US presidential election, the leading contender to be the next president of France on Friday night confirmed his campaign had been the subject of a "massive hacking attack."
The "En Marche" (or Onwards!) campaign of Emmanuel Macron, the center left candidate favored by pollsters to defeat far right candidate Marine Le Pen, announced various internal documents, including emails and contracts, were being circulated on social media.
"The files circulating were obtained several weeks ago thanks to a hacking of the personal and professional email accounts of several leaders of the movement," the campaign said in a statement.
The campaign said fake documents had also been added to the online dump to "sow doubt and misinformation."
"Coming in the last hour of the official campaign, this operation is obviously a democratic destabilization, like that which took place in the United States during the last presidential campaign," the En Marche statement read.
The news broke shortly before midnight local time when all French media and the rival campaigns were plunged into silence on the issue of Sunday's vote, as mandated by the country's election laws.
It was not immediately clear how the French news media would cover the Macron hack.
Le Pen's campaign did not release a comment before the blackout began, but her top aide was promoting the hashtag #MacronLeaks on Twitter earlier on Friday.
WikiLeaks, which last year published the hacked email contents of Hillary Clinton campaign chairman John Podesta, also promoted the leaks, sharing a link to the online dump via Twitter and stating it was looking into the contents.
Users of the internet site 4chan have been working aggressively to take down Macron in recent days.
After Le Pen accused Macron of having a secret offshore bank account during a televised debate this week (a charge he denied and reported to French election officials), 4chan users began a concerted effort to support her claims using flimsy evidence.
Last month, 4chan users also spread false hoaxes that Macron was secretly sleeping with his wife's 30-year-old daughter. Supporters of President Donald Trump have also pretended to be French citizens online in an effort to support Le Pen's candidacy.
The Macron campaign said Friday that it had been targeted by "intense and repeated" online attacks throughout the campaign.
"It is not a simple piracy operation but an attempt to destabilize the French presidential election," the campaign said, urging media to report the leak "conscientiously."
"We will take all necessary initiatives with public and private actors to clarify this unprecedented operation in a French election campaign," the En March statement read.
Ryan Broderick contributed to this report.
Source: https://www.buzzfeed.com/usnews.xml