A North Carolina high school will not have a memorial for one of its students who died after being electrocuted at a pool where she worked as a lifeguard.
Family and friends of Rachel Rosoff, a 17-year-old who died in North Carolina last year, are fighting to get her high school to acknowledge her during the school's graduation ceremony in June.
Rachel was electrocuted and drowned while working as a lifeguard at the Heritage Point Pool last September.
She would have graduated from the William G. Enloe Magnet High School in June.
Now, her family and friends are slamming the school for refusing to have a memorial for Rachel during the graduation ceremony.
A petition to get the school to acknowledge her during graduation has gotten more than 3,000 signatures as of Monday. Her sister, Jordana Rosoff, said she started the petition because the school wanted "to pretend [Rachel] did not exist."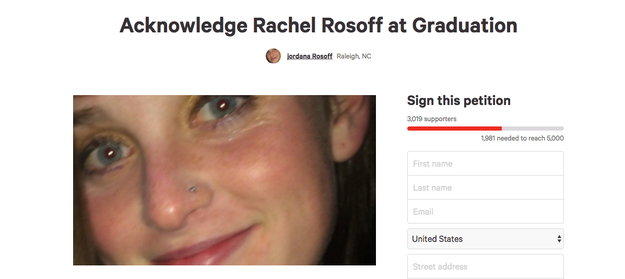 "They feel it may cause sadness and bring people down on a day that is suppose to be celebratory," Jordana wrote on the petition page. "They want to pretend she did not exist, which not only hurts me, but my family and her friends. I just want my sister to be recognized and acknowledged for the beautiful, goofy, funny, care free, caring person she was."
"It's ridiculous," Rachel's mother, Michelle Rosoff, told BuzzFeed News on Monday. "[The school] doesn't want the graduation to be focused on a sad event. But we don't want to focus on the way she died, but to focus on her life."
In a May 3 email to Michelle Rosoff, the school's principal said they would not have a memorial for her daughter during graduation because the ceremony was meant to be a "celebration" and they wanted to ensure it "maintains a happy, vibrant feel."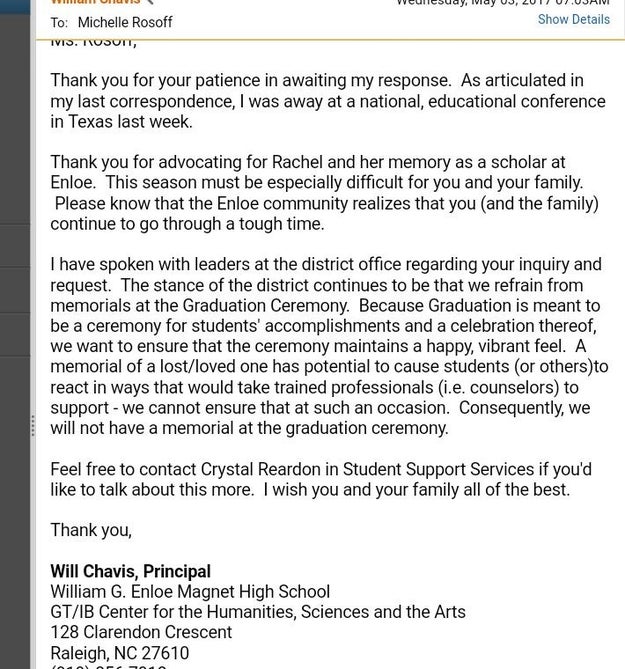 In the email that Michelle Rosoff shared on her Facebook page, the principal, Dr. Will Chavis, said that "a memorial of a lost/loved one has the potential to cause students (or others) to react in ways that would take trained professionals (i.e. counselors) to support — we cannot ensure that at such an occasion."
Michelle Rosoff said the school didn't need therapists on hand in the middle of a graduation. "I'm a therapist, that's what I do for a living. If they need therapists I'll bring a whole shit load of therapists," she said.
In an email to BuzzFeed News, Chavis said that the decision not to have a memorial for Rachel during graduation was made by administration officials, counseling staff and school psychologists "based on guidelines recommended by National Association of School Psychologists."
However, some of Rachel's friends want her to be remembered at their graduation ceremony.
"I think we are old enough to be okay and understand what is going on," Alissa Brasington, Rachel's friend, told WRAL.com. "I think we'll be okay if they mention her. It will actually be better than if they don't mention her."
Her best friend, Victoria Ward, who is graduating in June, told ABC 11, "I think it's more of a sad thing that they can't recognize her. She should be there with us."
Chavis said that "Rachel will be remembered and recognized during Enloe High School's Senior Awards event. A scholarship will be presented in her name at that event."
Students and teachers had also installed a bench on campus in Rachel's honor.
Michelle Rosoff told BuzzFeed News that she had started the $500 scholarship in Rachel's name. A link to the scholarship is on the school's website.
"They can take my money now that I'm funding them for a scholarship and they can have her name on the website but they don't want to acknowledge her at graduation," she said.
"The students and people have spoken and all agree that Rachel be acknowledged," Michelle Rosoff wrote in a Facebook post. "Whose graduation is it anyway?"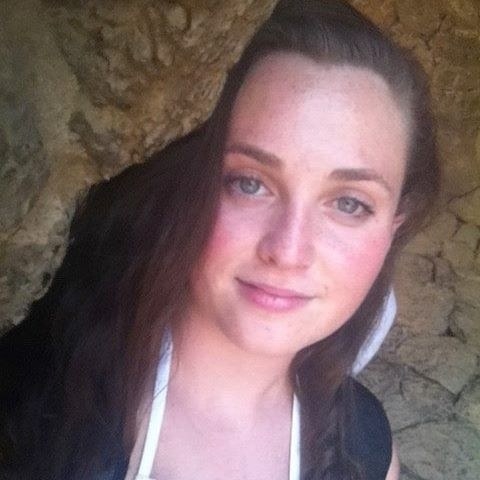 According to Michelle Rosoff, the school had held memorials for students on previous graduations.
In a comment on the petition page, Melinda Carter, who claimed to be a former English teacher at Enloe, said that there were "several years students who had died were acknowledged at graduation."
However, Chavis told BuzzFeed News that while there was no official school policy, he said that schools in Wake County do not memorialize students during graduation ceremonies based on the guidelines recommended by National Association of School Psychologists.
Michelle Rosoff said that Chavis did not know her daughter because he was new to the school and had only been there for a year.
"It's gotten to the point where it's silly," she said. "It's gotten way out of hand, its gone viral and it didn't need to. It's become the center of the graduation and it's unfair to the other kids."
She said she has not heard back from Chavis or the school district officials.
---
Source: https://www.buzzfeed.com/usnews.xml