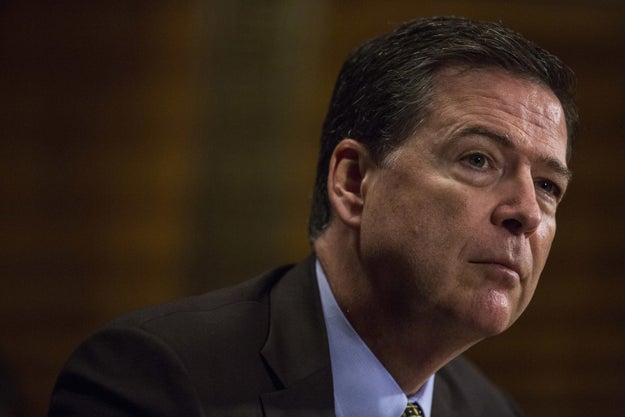 Zach Gibson / Getty Images
President Trump's unexpected decision to fire FBI Director James Comey on Tuesday prompted renewed calls by Democrats in Congress for a special prosecutor to take over the investigation into whether Trump's campaign colluded with Russia during the 2016 election.
Most lawmakers said they had no warning that Comey would be terminated, and questioned Trump's motives. In a memo, Deputy Attorney General Rod Rosenstein said the Department of Justice had concerns over public statements Comey had made during the investigation into Hillary Clinton's emails. But Democrats pointed to the ongoing Russia investigation as the reason behind the firing.
"Trump firing Comey shows how frightened the Admin is over Russia investigation," Sen. Tim Kaine, Clinton's 2016 running mate, said in a tweet.
Sen. Bob Casey of Pennsylvania put it in starker terms.
"This is Nixonian," he tweeted. "Deputy AG Rod Rosenstein must immediately appoint a special prosecutor to continue the Trump/Russia investigation."
Senators Richard Blumenthal, Kamala Harris, Kirsten Gillibrand, Michael Bennet, Dick Durbin, Martin Heinrich, Jack Reed, Tom Udall, Mark Warner, and Cory Booker agreed on the need for a special prosecutor. Rep. Steve Cohen also called for a public commission to investigate.
Meanwhile, Sen. Dianne Feinstein — the top Democrat on the Senate Judiciary Committee — said that she had received a call from Trump in advance of Comey's firing, notifying her of the decision.
"The next FBI Director must be strong and independent and will receive a fair hearing in the Judiciary Committee," she said in a statement.
The director of the FBI is nominated by the president and requires confirmation by the Senate. The White House has not announced who the administration will seek to replace Comey.
LINK: President Trump Has Fired FBI Director James Comey
Source: https://www.buzzfeed.com/usnews.xml