Cancel all men forever.
Angelica is a 19-year-old student from Connecticut. She told BuzzFeed News she has a Tinder account, but uses it mostly "as a joke."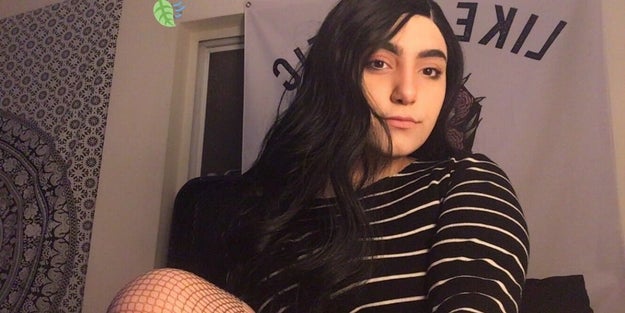 "I never take it seriously," she said.
So, on Friday, she said she handed her phone to her sister and let her swipe through on whoever she wanted.
Her sister came across a user named Danny, whose profile picture featured him posing with Ronald McDonald.
"My little sister thought it was funny," Angelica said of the photo, and her sister decided to swipe right.
The swipe was a match, so Danny decided to reach out to Angelica with…this.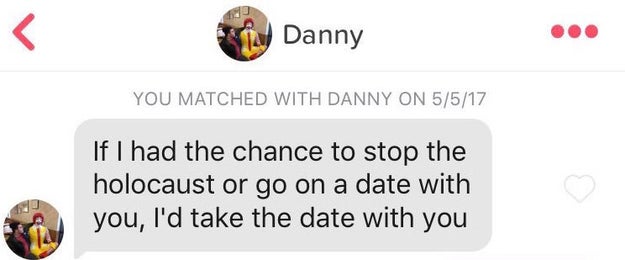 Angelica said she was immediately stunned by the pick-up line, and responded with a concise retort. "I'm Jewish."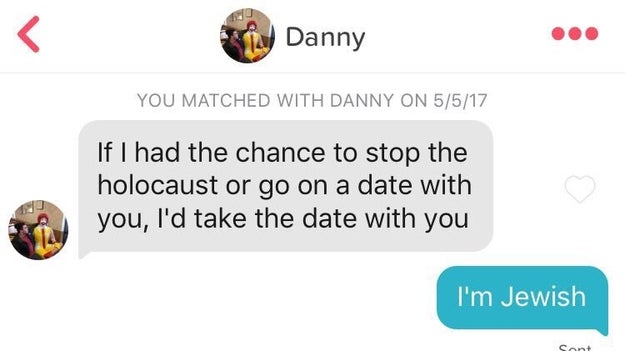 "At first I was baffled," Angelica said. "I didn't know what to say. 'I was like, who uses that as a pick-up line?'"
Angelica said that Danny's response to her was "I'm Catholic." After that, she said she unmatched with him.
She added that she was definitely offended at first, even after her friends told her not to take it to heart.
"[I said] 'I'm kind of taking it to heart a little bit!'" she said.
---
Source: https://www.buzzfeed.com/usnews.xml