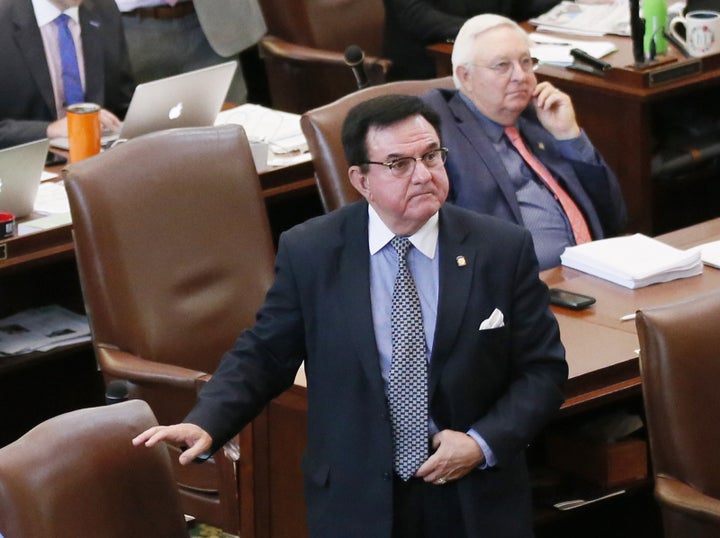 Sue Ogrocki / AP
A Republican lawmaker in Oklahoma has a unique proposal to help fix the state's massive $900 million budget hole: Turn over the state's thousands of non-English speaking students to Immigration and Customs Enforcement.
Unfortunately for him, it's unconstitutional.
Rep. Mike Ritze told News9 on Wednesday that the newly-formed Republican Platform Caucus believes that the struggling state could save $60 million in tax credits by nixing what they estimate to be 82,000 non-English speaking students.
"Identify them and then turn them over to ICE to see if they truly are citizens, and do we really have to educate non-citizens?" Ritze asked.
Yes, we do. In 1982 the Supreme Court ruled that states can't bar students from a public education based on their immigration status, as noted by Oklahoma schools Superintendent Joy Hofmeister, a fellow Republican, who called Ritze's idea "utterly shameful."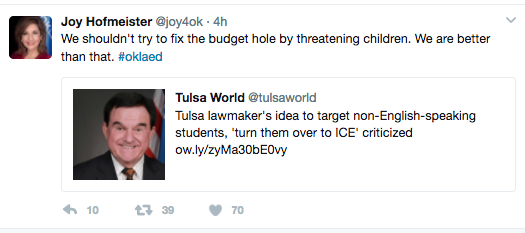 Via Twitter: @joy4ok
When asked, several of the state's Republican leaders quickly distanced themselves from their colleague's idea of turning over tens of thousands of students to ICE to save money.
"On this subject of deporting students, that is not a position that we support," Rep. Chuck Strohm, the co-chairman of the caucus, told the Associated Press.
House Floor Leader Rep. Jon Echols also called it a "bad idea."
Ryan Kiesel, the executive director of the American Civil Liberties Union of Oklahoma, called the proposal "disgustingly inhumane."
"A government that threatens to turn children over to law enforcement to avoid educating them should alarm and outrage all Oklahomans," he said in a statement.
It's also unclear as to how the caucus came up with its 82,000 calculation, as the Associated Press notes, the State Department of Education reports there are 50,000 students learning English in Oklahoma's public schools, many of whom could be US citizens.
The caucus did introduce a few other ideas to remedy Oklahoma's impending massive budget shortfall without raising taxes, like terminating nonessential college employees, eliminating transferable tax credits, and ditching "promotional swag," which Ritze said would save about $39 million.
"Swag would be like if you want to do advertising you want to put your logo on a pen and you're a government agency, you want to go out there and hand it out for getting your name out then we feel like that's a waste," Ritze said. "It's not necessary."
Source: https://www.buzzfeed.com/usnews.xml