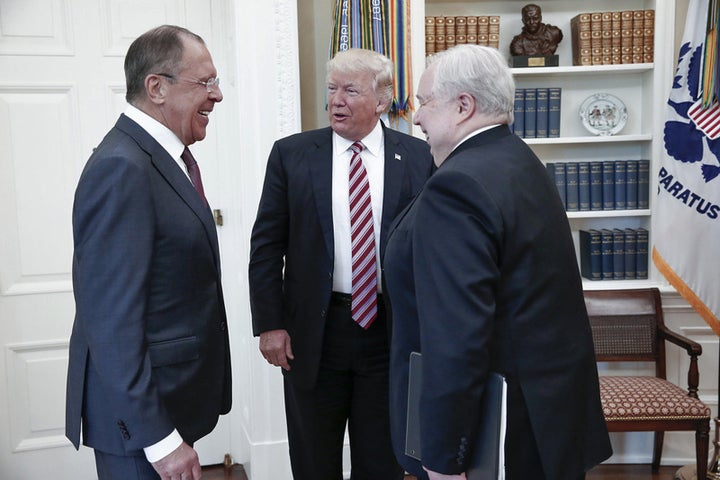 Trump meets with Sergey Lavrov, left, and Ambassador Sergei Kislyak on May 10.
/ AP
President Trump revealed highly classified information to Russian officials during a meeting last week at the White House, two US officials confirmed to BuzzFeed News.
The meeting included Russia's ambassador, Sergei Kislyak, and Foreign Minister Sergey Lavrov. The disclosures were first reported by The Washington Post, which cited current and former US officials who said the information was considered so sensitive that some details had been withheld from American allies and was restricted within the US government.
Two US officials who were briefed on Trump's disclosures last week confirmed to BuzzFeed News the veracity of the Post report, with one official noting that "it's far worse than what has already been reported."
The Senate Intelligence Committee was also briefed on Trump's disclosures, one of the officials said.
A CIA spokesman declined to comment on the record when reached by BuzzFeed News. The official referred requests for comment to the National Security Council. The National Security Council did not immediately respond to BuzzFeed News' request for a comment.
The classified information Trump shared included intelligence on ISIS that had been passed to the US by a partner, which was not identified. But Trump's disclosure was considered a potential blow to the intelligence-sharing arrangement, and White House officials reportedly moved quickly to contain the fallout.
After news of the revelations broke Monday, Sen. Chris Murphy, a Connecticut Democrat, told reporters on Capitol Hill that "if this story is true, it's another brick in the wall of a really, really troubling connection between Trump and the Russian government."
"I don't know when it will be enough for Republicans to understand that we need to get to the bottom of the connection between the president of the United States and the Russian government," said Murphy, who sits on the Senate Foreign Relations Committee.
The meeting between Trump, Lavrov, and Kislyak happened the day after the firing of FBI Director James Comey's firing. Comey had been running an investigation into Russian interference with the US election, as well as potential ties between Trump's campaign and Russia.
Initially, the stated reason for Comey's firing was his handling of the investigation into Hillary Clinton's private email server. However, in an interview with Lester Holt, Trump later said he was thinking of the Russia investigation when he fired Comey.
Emma Loop contributed to this report.
LINK: President Trump Has Fired FBI Director James Comey
Source: https://www.buzzfeed.com/usnews.xml