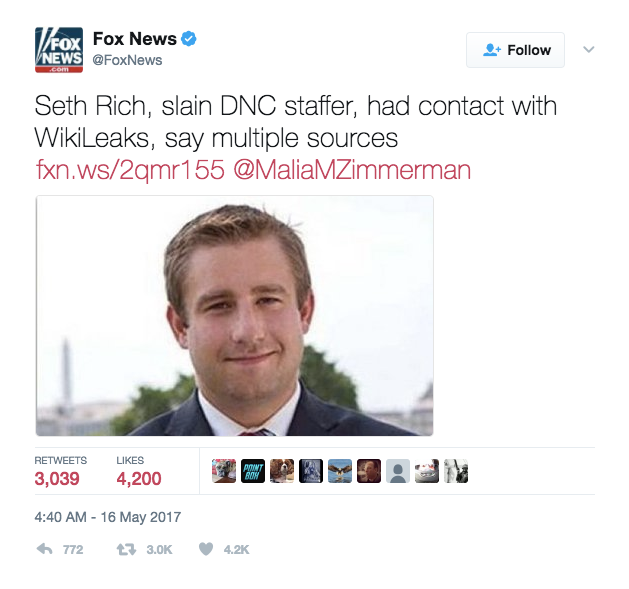 Two days after a Fox News story reignited conspiracy theories around the death of a Democratic National Committee staffer, the 27-year-old's family is calling for a retraction — and threatening to take legal action.
Seth Rich was fatally shot July 10 in Washington, DC, in what the Metropolitan Police Department has called an apparent botched robbery attempt. Days later, WikiLeaks released a trove of DNC emails that intelligence officials have said was related to Russian meddling in the 2016 election.
On Monday, Fox 5 in Washington linked those two events based on statements by Rod Wheeler, a private investigator supposedly working with the Rich family, who claimed that there is evidence of emails between Rich and WikiLeaks. FoxNews.com on Tuesday published a story featuring Wheeler as well as an unnamed federal investigator, who said the 44,053 emails released by WikiLeaks had been leaked by Rich to a contact.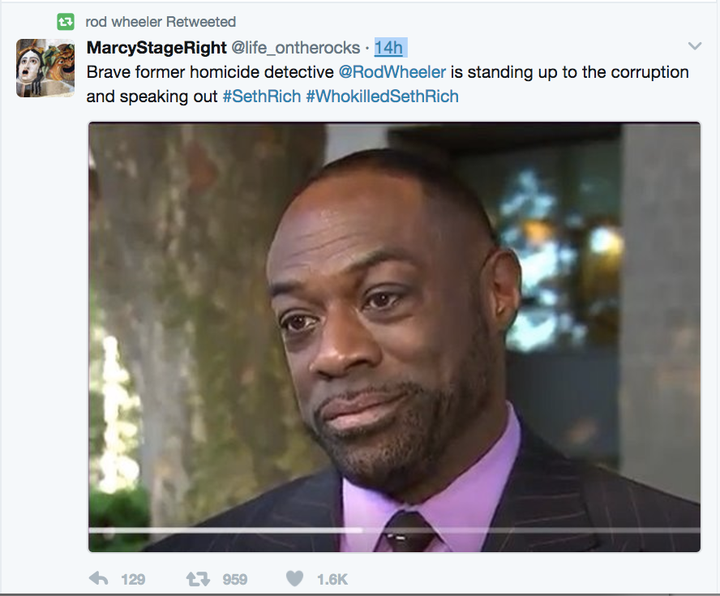 The stories were amplified on social media and by right-wing websites. But Wheeler told BuzzFeed News that the original report was wrong: He hadn't actually seen evidence of emails linking Rich to WikiLeaks, and he hadn't spoken to the federal source claimed in the news reports.
The identity of FoxNews.com's alleged federal source has not been released. Rich's family said they were unaware of any federal agency investigating his death, and they've seen no evidence similar to what had been reported by Fox. A person familiar with the matter confirmed to BuzzFeed News the FBI is not investigating the case. The Metropolitan Police investigation remains active.
"We do not discuss operational details in active investigations. We also do not entertain conspiracy theories," Margarita A. Mikhaylova, a police spokeswoman, told BuzzFeed News. "If any individual feels they have information pertinent to this investigation we ask them to contact us."
If no retraction is issued by Fox, Rich family spokesman Brad Bauman said they will seek legal recourse.
Since it was first published, the FoxNews.com story has been updated to include statements from the Rich family as well as additional comments from Wheeler — a Fox News contributor who has appeared multiple times on Fox News programs this week.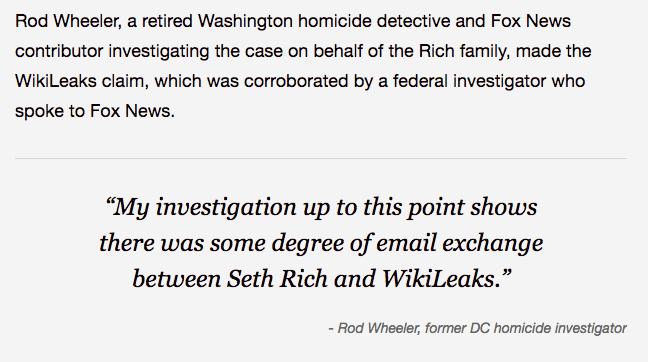 FoxNews.com / Via foxnews.com
But as of Wednesday evening, the story prominently features a quote from Wheeler at odds with his actual findings.
"My investigation up to this point shows there was some degree of email exchange between Seth Rich and WikiLeaks," he claimed. "I do believe that the answers to who murdered Seth Rich sits on his computer on a shelf at the DC police or FBI headquarters."
However, in an interview Tuesday with BuzzFeed News, Wheeler stated he had no personal knowledge of Rich's emails. "I don't even know where the computers are," he said.
In response to the family's request, FoxNews.com said it would update its story "when the situation warrants."
"We continue to track developments in the story and will update further when the situation warrants," Refet Kaplan, managing director of Fox News Digital, said in a statement to BuzzFeed News.
LINK: The Family Of A Murdered DNC Staffer Has Rejected A Report Linking His Death To WikiLeaks
LINK: The Private Detective Who Ignited A Clinton Conspiracy Theory Says He Was Misquoted
Source: https://www.buzzfeed.com/usnews.xml