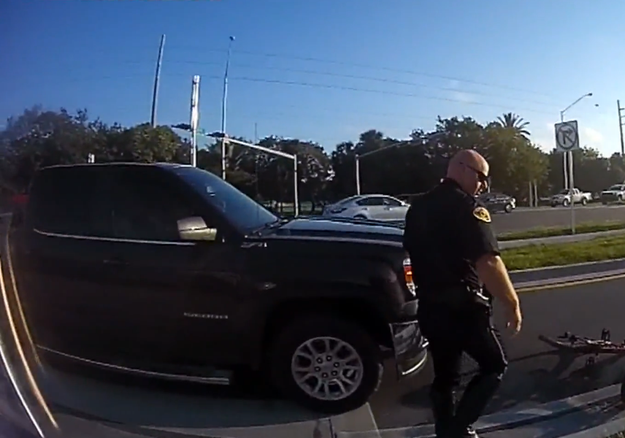 Univision / Via univision.com
In recently released body camera footage, an undocumented Florida man is asked by a sheriff's deputy if he's "illegal" moments after being struck by a pickup truck while riding his bike. After being treated in a hospital, he now faces deportation.
Marcos Antonio Huete, 31, from Honduras was lying on the sidewalk after being hit by a truck on April 27 when a deputy with the Monroe County Sheriff's Office asked him about his immigration status. The video was first posted by Univision.
"You illegal? Are you a legal citizen or no? Speak English? You got ID? Passport, visa, or what?" the deputy is heard saying in the video.
The video comes amid a battle over so-called sanctuary cities, how local police cooperate with federal immigration authorities — if at all — and whether it's legal for cops to ask about someone's status.
After being discharged from Lower Keys Medical Center with bruises on his thighs and legs, his sister, Olga Huete, told BuzzFeed News that a sheriff's deputy was waiting for them outside with her brother's bike and told them they had to return to the scene of the crash.
Once they arrived, her brother was given a $75 ticket by the Florida Department of Highway Safety and Motor Vehicles (FHP) for allegedly causing the accident, Huete said. The crash report said he darted in front of the GMC truck and obstructed traffic. The driver, a 44-year-old woman from Key West, was found to not be at fault.
It was then that Border Patrol agents showed up at the scene and asked them both for their documents, Olga Huete said.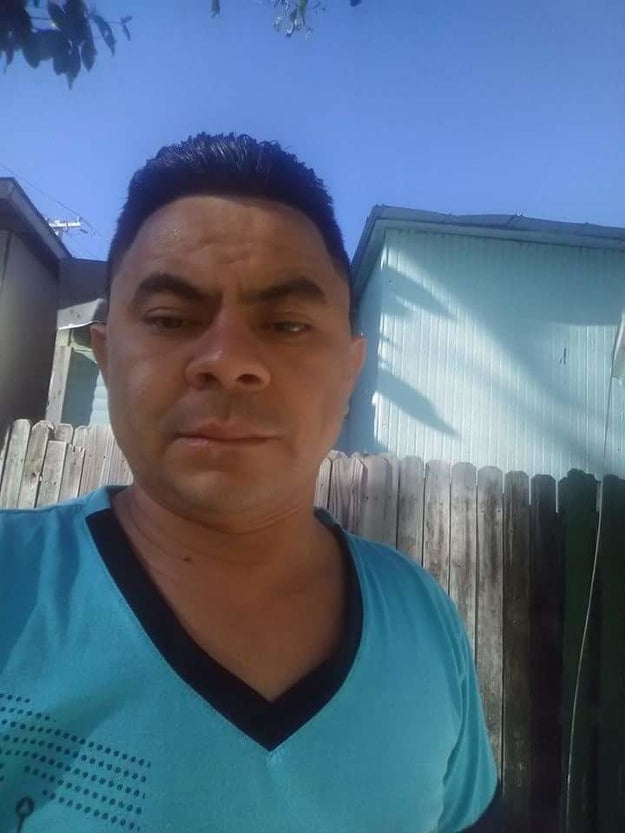 Marcos Antonio Huete, 31.
Olga Huete
"I asked them why he was being arrested if he didn't do anything wrong," Olga Huete told BuzzFeed News. "He said, 'It's not because he did anything, but because he's in the country illegally.'"
Her brother had previously been deported around 2010, but returned to the US in 2015. Because Marcos Antonio Huete re-entered the country, he is a priority for deportation under new federal guidelines and could face federal prosecution.
Marcos, who came to the US to help support his mother and two daughters who live in Honduras, is being held at the Krome Detention Center in Miami, Florida.
"Just because we don't have papers doesn't mean we're animals, we're human beings," Olga Huete said. "He was my support system in this country and it hurts because they took what I loved the most. They took him right from my hands and I was powerless to do anything."
Becky Herrin, a spokeswoman for the Monroe County Sheriff's Office, said this was a Florida Highway Patrol (FHP) case.
"We did not arrest anyone, detain anyone, issue any citation, nor did we ever call ICE or border patrol," Herrin told BuzzFeed News. "We were simply assisting on scene."
Univision reported that FHP asked Border Patrol agents to assist in identifying Marcos Antonio Huete.
US Customs and Border Protection said that Marcos was picked up by agents after the crash and set to be deported because he is the subject of an outstanding deportation. No additional information was provided.
It's not the only video posted recently involving an officer asking about someone's immigration status. Last week, Metro Transit police in Minneapolis launched an investigation into one of their officers after video of him asking a rider if he was "here illegally" was posted online.
Language inside the White House's proposed budget this week indicates the administration wants to change immigration law so that it's mandatory for local authorities to hold immigrants for federal agents to pick up. This month, Texas passed a law outlawing sanctuary cities, making it a crime for police and sheriffs' departments to fail to cooperate with immigration enforcement requests.
LINK: Texas Just Passed A Law Banning Sanctuary Cities
Source: https://www.buzzfeed.com/usnews.xml