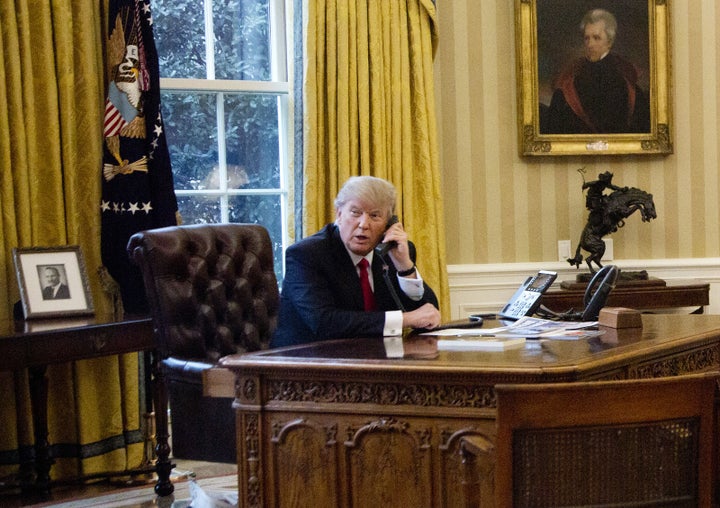 Manuel Balce Ceneta / AP
President Trump has been handing out his cell phone number to world leaders, urging them to call him directly on it, the Associated Press reported Tuesday, a breach of protocol that raises security concerns about the president's communications.
Among the world leaders who have been given the president's cell phone number are Canadian Prime Minister Justin Trudeau and Mexican President Enrique Peña Nieto, according to the wire service. Trudeau is the only one who has spoken with Trump by cell phone so far, the report said.
Trump reportedly exchanged numbers with France's newly-elected President Emmanuel Macron as well. Macron spoke with Trump after his election victory, but French officials did not comment to the AP about whether the French leader planned to communicate with Trump on his cell phone.
The report comes just days after Trump wrapped up the first foreign trip of his presidency, which included stops at the Vatican, Israel, Saudi Arabia and attendance at the G-7 conference in Sicily with world leaders.
Trump's use of a cell phone for official communications raises concerns about the security of such calls, which are usually set up by White House staff on secure phone lines. Even if Trump is using a government-issued cell phone, the conversations could be open to surveillance, security experts told the AP.
"If you are speaking on an open line, then it's an open line, meaning those who have the ability to monitor those conversations are doing so," Derek Chollet, a former Pentagon advisor and National Security official told the AP.
The White House did not immediately respond to BuzzFeed News requests for comment.
Even if the number is not used by world leaders, experts told the AP it could open the president to eavesdropping attempts by other nations.
"If you are Macron or the leader of any country and you get the cellphone number of the president of the United States, it's reasonable to assume that they'd hand it right over to their intel service," said Ashley Deeks, a law professor at the University of Virginia who previously worked as an assistant legal advisor for political-military affairs in the US State Department.
Source: https://www.buzzfeed.com/usnews.xml