It wasn't just the Maverick.
Republicans failed to pass their last-ditch effort to repeal and replace Obamacare on Thursday night in a middle-of-the-night showdown that ended with Senator John McCain breaking away from his party and voting "no." Republicans couldn't lose more than two votes, and McCain was the third voting against the bill, killing it 49-51.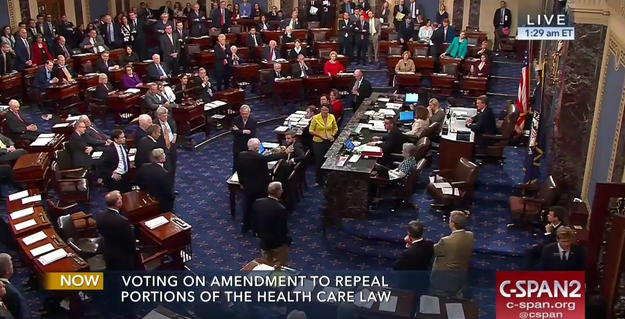 Known as the "skinny repeal", the bill would have abandoned the individual mandate (where you have to pay a tax penalty if you don't purchase health insurance), banned federal funding of Planned Parenthood for one year, and abandoned the rule that large companies had to offer insurance to its employees.
It was dramatic night! McCain, who is still recovering from brain surgery, returned to Washington cast an earlier vote moving forward on health care debate. But when he arrived to cast his vote on Tuesday's "skinny repeal," he cryptically told reporters to "wait for the show."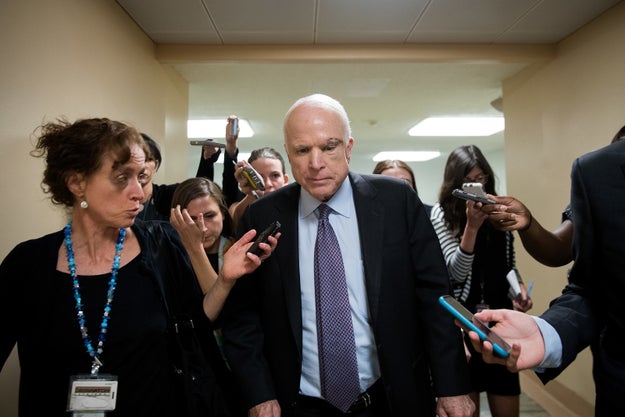 Drew Angerer / Getty Images
The final vote didn't happen until nearly 1:30am. VP Mike Pence was busily trying to persuade McCain to support the bill, taking him off to chat in a side room. Other Republican Senators huddled around Senator Lisa Murkowksi, trying to convince her to change her mind. Then ~showtime~, McCain walks onto the Senate floor for his finale:
It was McCain's "Maverick moment," as CNN dubbed it, because McCain, has long portrayed himself as the Republican is brave enough to speak out against his party if he disagrees with them — even if he usually then votes along party lines.
---
Source: https://www.buzzfeed.com/usnews.xml