"Number one, they should go after the leakers in intelligence. I don't mean the White House stuff where they're fighting over who loves me the most, OK? It's just stupid people doing that."
Last week, the Wall Street Journal interviewed President Donald Trump in the Oval Office for 45 minutes, but only published some excerpts from the conversation.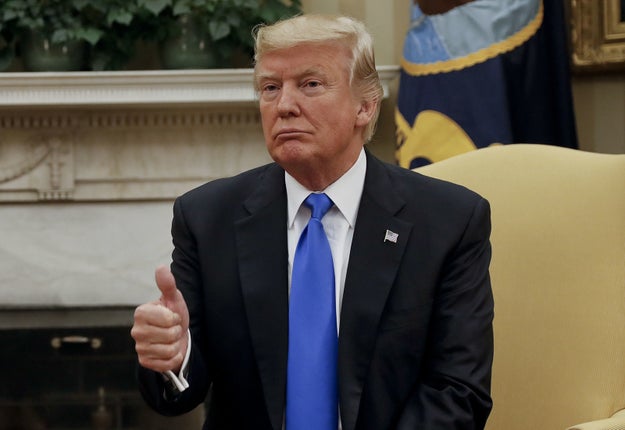 Pablo Martinez Monsivais / AP
However, Politico got a hold of the transcript and on Tuesday published the entire 45-minute conversation, which was led primarily by the Journal's editor-in-chief, Gerard Baker. The remarks had circulated around the Journal's newsroom and others in New York and Washington, according to Politico.
When asked why the paper did not print the interview in full, a spokesperson told Politico that they "published the noteworthy excerpts from the interview. We saw no reason to publish the crosstalk that inevitably accompanies any conversation."
In it, the president called his son-in-law a "good boy," said the Boy Scouts called and told him his speech was the greatest "ever made to them," and that he was amazed when he found out how many people live in other countries like Indonesia and Malaysia.
There was a lot going on in the interview, so we highlighted the most ~interesting~ parts.
On his politicized Boy Scouts speech: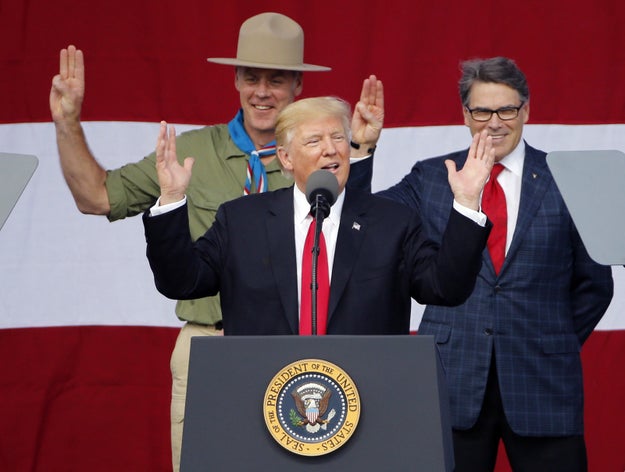 Steve Helber / AP
PRESIDENT TRUMP: Biggest crowd they've ever had. What did you think?

WSJ: I thought it was an interesting speech in the context of the Boy Scouts.

PRESIDENT TRUMP: Right.

WSJ: They seemed to get a lot of feedback from former scouts and –

PRESIDENT TRUMP: Did they like it?

WSJ: It seemed mixed.

PRESIDENT TRUMP: They loved it. (Laughter.) It wasn't – it was no mix. That was a standing –

WSJ: In the – you got a good – you got a good reaction in –

PRESIDENT TRUMP: I mean, you know, he writes mostly negative stuff. But that was a standing ovation –

WSJ: You got a good reaction inside the arena, that's right.

PRESIDENT TRUMP: – from the time I walked out on the stage – because I know. And by the way, I'd be the first to admit mixed. I'm a guy that will tell you mixed. There was no mix there. That was a standing ovation from the time I walked out to the time I left, and for five minutes after I had already gone. There was no mix.

And I got a call from the head of the Boy Scouts saying it was the greatest speech that was ever made to them, and they were very thankful. So there was – there was no mix.
In fact, an official with the organization told BuzzFeed News they were unaware of any such phone call to the president.
Not long after the speech, the chief of the Boy Scouts of America apologized to the scouts for the president's "political rhetoric" that spurred backlash from some the scouting community.
In a statement to BuzzFeed News on Tuesday, Boy Scouts of America said that "the Chief Scout Executive's message to the Scouting community speaks for itself."
---
Source: https://www.buzzfeed.com/usnews.xml