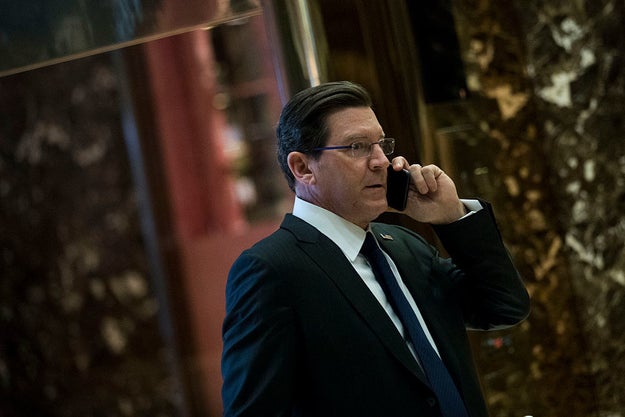 Fox News host Eric Bolling arrives at Trump Tower, Nov. 16, 2016.
Drew Angerer / Getty Images
Eric Bolling is reportedly out at Fox News after allegations surfaced that he sent unsolicited lewd text messages to female colleagues.
Fox News decided to "part ways amicably" with the the co-host of Fox News Specialists after suspending him in August pending the results of an internal investigation.
"We thank Eric for his ten years of service to our loyal viewers and wish him the best of luck," the network said in a statement Friday.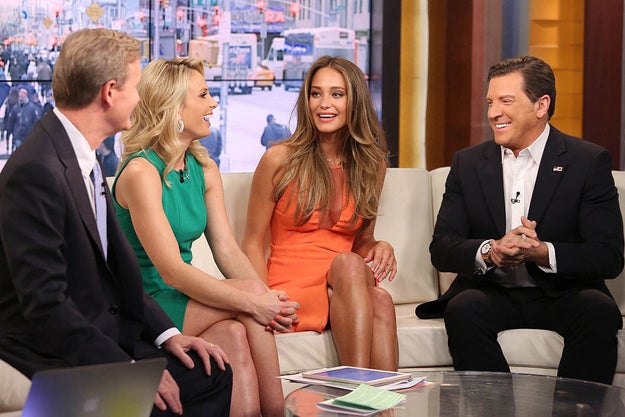 (From left to right) Steve Doocy, Elisabeth Hasselbeck, Hannah Davis, and Eric Bolling in 2015.
Rob Kim / Getty Images
After learning about the allegations against Bolling reported by The Huffington Post in August, Caroline Heldman, a former frequent guest on Fox News, posted on Facebook about her own interactions with the host, who she claimed would often call or text her to ask her out to dinner or invite her to New York after her appearances on his show.
"There were a couple of times that he would try to get me to go to New York, have dinner," Heldman told BuzzFeed News. "He would said if I came to New York we would have a lot of fun, and I knew what was happening."
Bolling's departure is the latest in a string of staff setbacks to hit Fox News.
Primetime host Bill O'Reilly was ousted from the network in April following multiple sexual harassment allegations. And former Fox News Chairman Roger Ailes faced sexual harassment allegations from several women before his death in May. He resigned from the network in July 2016 after Gretchen Carlson, a former Fox News anchor who alleged she was fired for rejecting Ailes's sexual advances, filed a lawsuit.
LINK: Fox News Suspends Eric Bolling, Investigates Whether He Sent Lewd Pics To Colleagues
Source: https://www.buzzfeed.com/usnews.xml