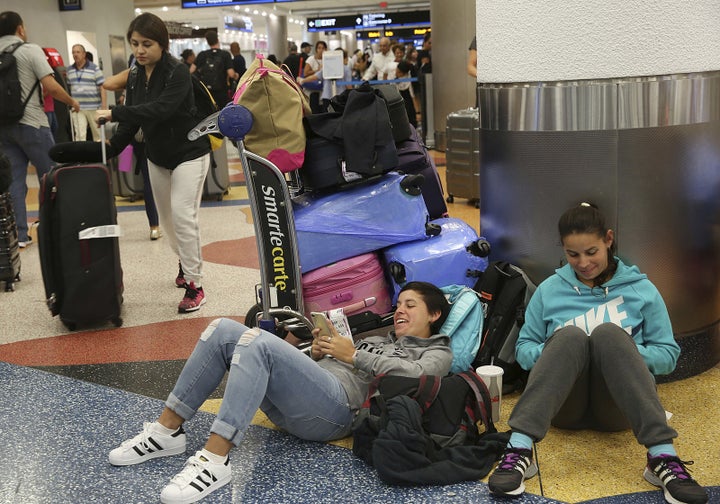 Yanina Fernandez, left, and her sister Liz, wait for an available flight to Argentina after their flight was cancelled at Miami International Airport on Thursday.
Marta Lavandier / AP
MIAMI — Florida residents and tourists rushed to Miami International Airport on Friday to catch the final departing flights as Hurricane Irma — a powerful, already-fatal storm with a width is larger than the entire Florida peninsula — bears down on the state.
Two airport employees told BuzzFeed News the airport would close Friday afternoon.
Several people vacationing in the area told BuzzFeed News they abruptly changed their plans as forecasts show the storm — which is expected to slam into the Florida Keys and south Florida around 8 a.m. Sunday with winds greater than 110 mph — potentially making a direct hit on Miami.
"I had to board up six properties before I could leave," said Richard Robinson, a Key West property owner. He added when he arrived at the airport there were only about 20 parking spots left for his car, and that it ended up staying on the ground level.
Airport officials have warned that, "The garages are at capacity, if you are flying, please use alternate means of transportation to arrive at MIA."
"We continue to monitor the progress of Hurricane Irma. Before coming to the airport, please confirm that your flight is still operating. Many flights have been canceled," officials warned on the airport's website.
People seemed to heed that advice as operations at the airport appeared to be running calmly on Friday. Airlines began making modifications and cancellations to flights earlier this week while travelers fear price spikes. The arrival and departures wall was loaded with cancellations.
"We're expecting a lot of damage, but we did everything we could do," said Kathy Robinson, who was evacuating Key West with Richard. They pair said people should always evacuate. "It's a huge hurricane, and I don't think you can be that prepared, no matter what you do."
One woman, who wouldn't give BuzzFeed News her name, said she was vacationing from Honduras but cut her stay short.
Rita Friedman
Rita Friedman, on vacation from Puerto Rico, was heading home to see what damage the storm had already done.
"We're supposed to be without water or electricity in the island, but I have to go back to find out how's my house," Friedman said. She said she owns a radio station on the eastern part of the island and wondered how damaged the towers had been. "I want to be there earlier and not spend Irma right here in Miami."
"I wish everybody in Miami a lot of luck with this catastrophic [storm]," she added.
Francisco Borjas, an Honduras man, also cut his vacation short because of the hurricane. But when asked whether he was scared of the storm, he said "not at all" in Spanish and said it was more a matter of convenience. "It wasn't because I was scared," he insisted.
On Thursday night, the airport had a different sort of chaos: A disturbed man with a knife was reportedly shot after getting on the tarmac and getting into a confrontation with an officer.
Source: https://www.buzzfeed.com/usnews.xml