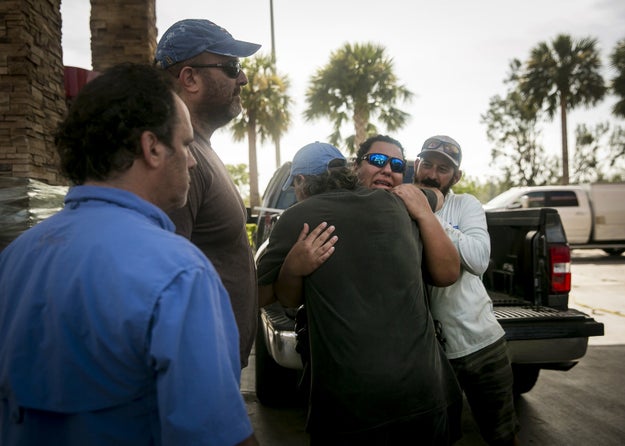 Residents plea with local law enforcement at a Race Trac off of Highway 1 leading into the Keys on Monday morning.
Nicole Craine for BuzzFeed News
HOMESTEAD, FLORIDA — Federal officials on Monday said the Florida Keys "are not equipped for re-entry for regularly citizenry for weeks" — but residents of the islands blocked from driving on the main road to their homes demanded they be allowed to return.
Irma made landfall Sunday morning on Cudjoe Key — one of the chain of islands that make up the Keys — as a Category 4 hurricane with sustained winds of 130 mph. Videos and photos posted on social media show toppled trees, destroyed vehicles, and boats in the middle of the street throughout the area but mostly in the southern parts of the Keys.
"This is a humanitarian crisis," Martin Senterfitt, the emergency management director of Monroe County, which includes most of the Keys, said. "Help is on the way."
Tom Bossert, President Trump's Homeland Security Advisor, said Monday that he would not be surprised if lives were lost, adding, "We're doing everything we can to help them."
"It looks like a nuclear bomb went off here," one Key Largo man told BuzzFeed News by phone on Sunday.
"Monroe County is closed until further notice," an official tweet from the county sent Monday read. Sheriff Rick Ramsay called for a dusk-to-dawn curfew until further notice, citing safety conditions.
"The wind may have stopped blowing, but for most of the Florida Keys, there is no fuel, electricity, running water, or cell service. For many people, supplies are running low and anxiety is running high," a statement posted on Monroe County's website reads.
Military airborne missions conducted by C-130 cargo planes are carrying supplies and recovery personnel to the area, the Air Force has been deployed, and Monroe County Emergency Management Director Martin Senterfitt said "disaster mortuary teams" are en route to the Keys to assess aid the recovery process.
There is no power, water, or flushing toilets, Key West City Manager said during a conference call with local, state, and federal officials on Monday, according to the Miami Herald.
One major issue is the condition of the string of bridges that connect the miles of islands, which have to be inspected by the Department of Transportation.
"We have not assessed the structural integrity of the bridges there. There's some early reason to believe that some of the draw bridges that were up may or may not have been bent. Restoring those is going to take some time," Bossert said.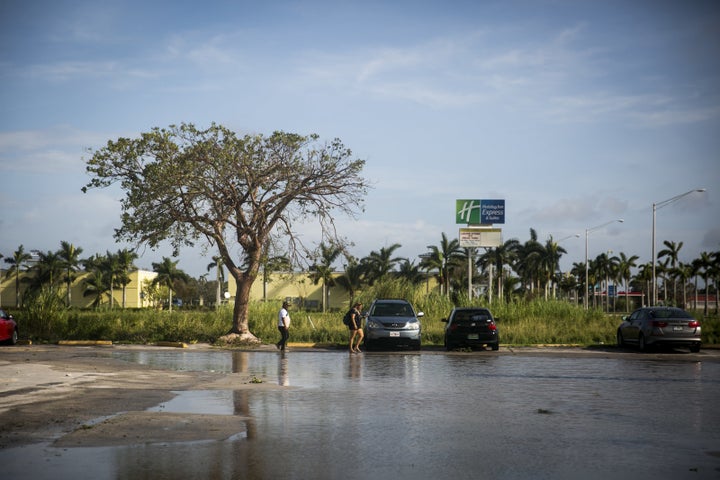 Residents wait at a Race Trac off of Highway 1 into the Keys on Monday
Nicole Craine for BuzzFeed News
"That route one is a large, expansive bridge essentially all of that has to be looked at for structural integrity," he added, "I would expect the Keys are not equipped for re-entry for regular citizenry for weeks. if i'm wrong, fine … I would set that expectation pretty broad right now."
But furious Keys residents who adhered to the mandatory evacuation of their homes and businesses banged their trucks and screamed at local authorities Monday who refused to let them drive down US Highway-1 back to their homes.
Many vowing to not evacuate in the event of future hurricanes.
"None of these people, none of us will ever evacuate again, ever. I wouldn't have left my home if I had any idea that this would happen," said Mark Serota, 52, a photographer from Tavernier.
"I've been through every storm that has hit South Florida for the last 30 years," said Serota. "I've never seen people in the Keys evacuate like they did this time. This was eic, that people actually left and did what they were told to do. But what they're doing here, right now, in this moment, is going to undo all of that. And they're going to have a worse time the next storm hits."
Authorities were unable to say when the road would reopen for locals, with times ranging from tomorrow to days or even weeks.
State Rep. Holly Raschein said during Monday's call with local and federal officials that the area is not prepared for the general population to return to the islands, according to the Herald.
"Right now we don't know where to go," yelled Shelby Bentley, 41, a charter boat captain, to a police officer. Bentley had been waiting in his car at a gas station at the start of US-1, where the sheriff's office had erected roadblocks, since 2 a.m. with his pregnant wife.
He said all hotels in the area were booked. Although he was unsure of his own home in Cudjoe Key, Bentley said said he had access to a relative's home in Key Largo — where most buildings are relatively unscathed — for them to stay in.
"Why did I evacuate the Keys, I'd rather fucking die down there," screamed one resident.
Only emergency services — Red Cross staff, paramedics, power supply workers, etc — were supposedly allowed to drive into the Keys. Locals, who said they lined up for yellow resident car stickers from the sheriff's office before the hurricane hit — were told post-hurricane that the stickers didn't mean anything.
Warren Stincer, 64, a retired boat captain who lives in Key Largo, said he was desperate to just get back home, since he knew his property was OK.
"I under the DOT and I understand all these people to make it 'safe' for us to go through," said Stincer. "My house is 20 miles from here. I've talked to the deputy sheriff who lives across the street from me, everything is fine. This is just a bunch of baloney."
Another resident told BuzzFeed News she'd spent $1,000 evacuating her home and wouldn't do it again. "I'm so mad for leaving," she said.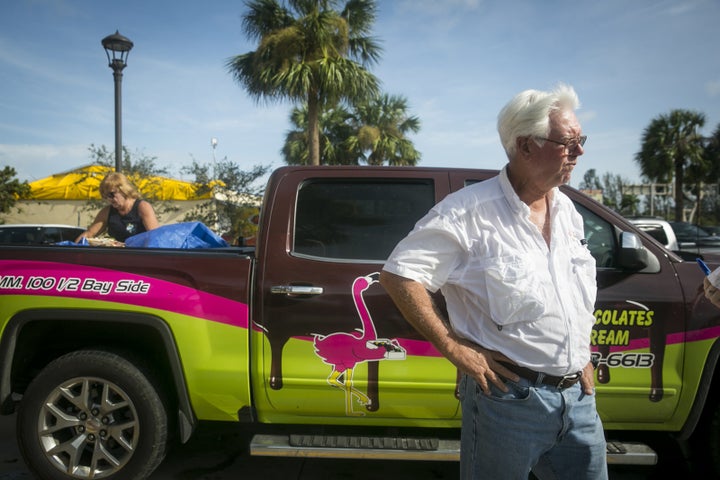 Bob Thomas
Nicole Craine for BuzzFeed News
Despite the mandatory evacuation order some residents chose to not leave their homes during the hurricane.
One man, who posted to Twitter that his father and stepmother were riding out the storm at their Summerland Keys home, told BuzzFeed News it was hours before he learned of their safety.
He said there is no cell phone service that far down the Keys but that they were able to alert him of their safety through a SPOT GPS notification system — which his father had from boat captaining — that sends messages via satellite to a saved list of email addresses.
Bob Thomas, who owns Key Largo Chocolates and Ice Cream and is aware that his business and home are OK, agreed. "More of a reason for us not to leave in the next hurricane," he said.
"We've got 60 tubs of ice cream that are soup," said Thomas, noting that he had a generator, he just wasn't able to get there to turn it on.
"There's no reason for us not be be there now,' said Thomas, noting that he wanted to get out there and start helping his neighbors who've been badly affected.
Source: https://www.buzzfeed.com/usnews.xml