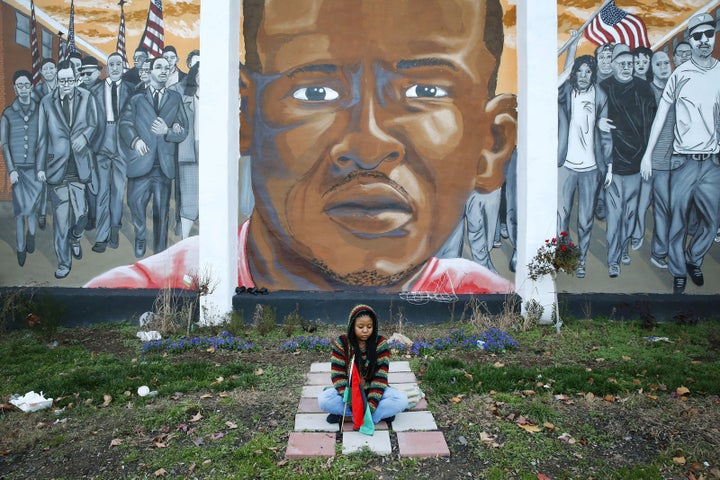 Jazmin Holloway sits below a mural depicting Freddie Gray at the intersection of his arrest in Baltimore.
Patrick Semansky / AP
No federal charges will be filed against the officers involved in the arrest and death of Freddie Gray in Baltimore in 2015, a source familiar with the investigation told BuzzFeed News on Tuesday.
The decision by the Department of Justice (DOJ) will mean no convictions for the six Baltimore police officers involved in Gray's arrest and subsequent death in April 2015, which sparked violent protests and riots in the city.
The attorney for the Gray family, Billy Murphy, told the Associated Press he was informed of the decision Tuesday.
Murphy did not immediately respond to BuzzFeed News' request for comment. A secretary at his firm said he was expected to make an announcement later on Tuesday, but no time had been set.
The DOJ also did not immediately respond to requests for comment.
Six officers faced criminal charges after Gray, who was arrested for allegedly possessing a switchblade, was found in a police van with a broken neck and a compressed spinal cord. He died a week later.
The 25-year-old had been handcuffed and shackled in the back of the van, but he was not restrained by a seat belt, prompting accusations that the officers had not just been reckless, but intentionally rough.
But after a contentious trial, Lt. Brian Rice, Officer Edward Nero, and Officer Caesar Goodson Jr. were acquitted of charges. Officer William Porter was expected to face another trial when the first one ended in a mistrial.
Then in July 2016, Baltimore City State's Attorney Marilyn Mosby decided to drop the charges against the remaining officers "in light of the dismal likelihood of convictions."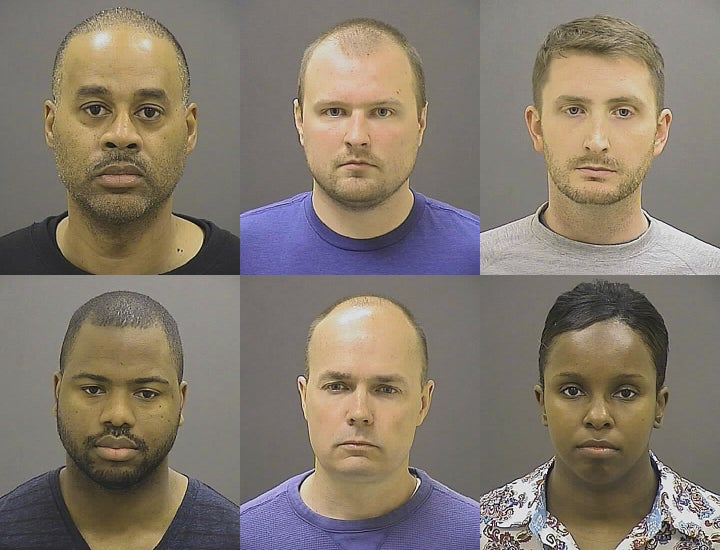 Top row from left, Caesar R. Goodson Jr., Garrett E. Miller and Edward M. Nero, and bottom row from left, William G. Porter, Brian W. Rice and Alicia D. White, the six police officers involved in the arrest and death Freddie Gray.
Uncredited / AP
That decision forced community activists and critics of the police department to look to the DOJ to possibly file charges. But under Attorney General Jeff Sessions, the DOJ has pulled back from investigating police departments for suspected civil rights violations.
Sessions attempted to delay a court hearing on a reform settlement with the Baltimore Police Department in March, which the Obama administration had launched after Gray's death. Sessions also released a corresponding memo that stated federal officials would reconsider investigations of local police departments, effectively putting that work on hold.
That memo has also frozen some assistance for cities that had asked the DOJ for investigative assistance after their officers were involved in shooting civilians.
"The misdeeds of bad actors should not impugn or undermine the legitimate and honorable work that law enforcement officers and agencies perform in keeping American communities safe," Sessions wrote in the memo.
LINK: Prosecutor Drops Charges Against Officers In Remaining Freddie Gray Cases
Source: https://www.buzzfeed.com/usnews.xml