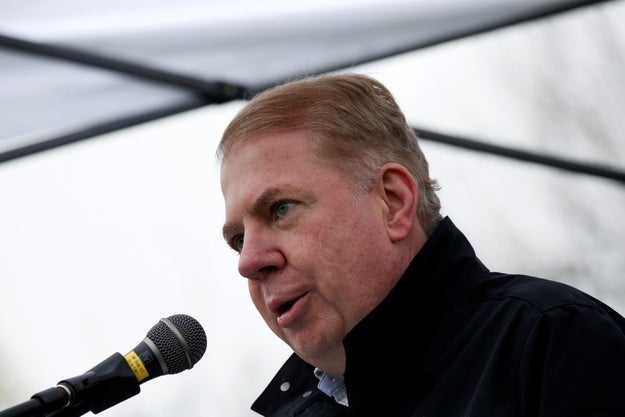 David Ryder / Reuters
Seattle Mayor Ed Murray announced Tuesday that he will resign after his younger cousin became the fifth man to claim the mayor sexually abused him as a teenager.
Murray, a Democrat and the city's first openly gay mayor, had planned to serve out his current term, which ends Dec. 31, but announced his resignation after his cousin, 54-year-old Joseph Dyer, told the Seattle Times that Murray "forced him into sex for about a year" when he was 13.
"While the allegations against me are not true, it is important that my personal issues do not affect the ability of our City government to conduct the public's business," Murray said in a statement Tuesday afternoon.
In April, a lawsuit accused Murray of sexually abusing a 15-year-old boy in the 1980s. In the complaint, the man, now 46, said Murray had sex with him in exchange for small amounts of money. Since that suit was filed, three other men have made similar accusations, according to KIRO.
The Democratic mayor said he will officially step down at 5 p.m. Wednesday and touted his accomplishments after 19 years in the legislature.
"I was able to pass what were at the time the largest transportation packages in state history, a landmark gay civil rights bill and a historic marriage equality bill," he said.
"And I am proud of what we have accomplished together at the City during my time as mayor, passing a nation-leading $15 minimum wage, and major progressive housing affordability and police accountability legislation, as well as negotiating an agreement to build a world-class arena that I believe in time will bring the NHL and NBA to Seattle."
Murray, a Seattle native, has been in public office for more than two decades, serving in the Washington state legislature before becoming mayor.
"But it has also become clear to me that in light of the latest news reports it is best for the city if I step aside," he said. "To the people of this special city and to my dedicated staff, I am sorry for this painful situation."
City Councilmember President Bruce Harrell will become mayor and then decide by next week if he wants to stay for the remainder of the term.
Source: https://www.buzzfeed.com/usnews.xml