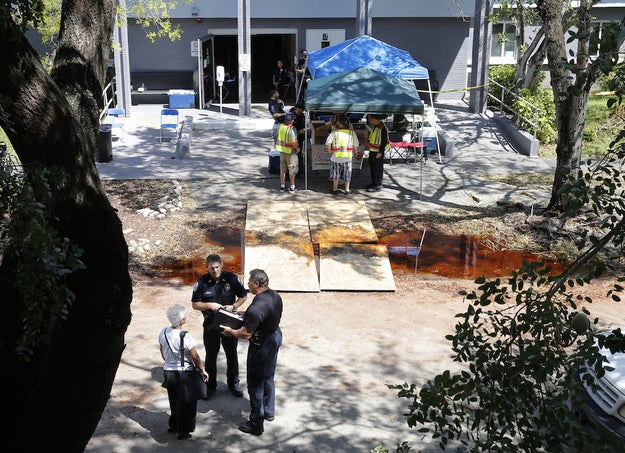 Marta Lavandier / AP
Six people at a nursing home in Hollywood, Florida, died Wednesday after the building lost power during Irma, police said.
Police responded to the Rehabilitation Center at Hollywood Hills early Wednesday and found "extremely hot" temperatures in the facility's second floor, Hollywood Police Chief Tomas Sanchez said at a news conference.
Police officers ordered an evacuation of the building and 115 patients were taken to nearby hospitals. Those evacuated are being treated for dehydration, heat exhaustion, and respiratory conditions, Randy Katz, the medical director of Memorial Regional Hospital said.
The Rehabilitation Center at Hollywood Hills suffered "a prolonged power failure" to the facility's air conditioning system as a result of Hurricane Irma, administrator Jorge Carballo said in a statement.
"Unfortunately, early this morning, several patients experienced distress and there were three fatalities," Carballo said. An additional three people died at a nearby hospital, police said.
A criminal investigation into the deaths has now been launched, and Carballo said the nursing home is cooperating with authorities.
Florida Gov. Rick Scott issued a statement Wednesday saying he is heartbroken and will "aggressively demands answers on how this tragic event took place."
"Protecting the lives of Floridians is my top priority and that's why we have worked all week to help Floridians prepare and respond to Hurricane Irma," the governor added. "Every facility that is charged with caring for patients must take every action and precaution to keep their patients safe — especially patients that are in poor health."
Scott also directed the Agency for Health Care Administration and the Department of Children and Families to work with law enforcement to investigate the matter.
"If they find that anyone wasn't acting in the best interests of their patients, we will hold them accountable to the fullest extent of the law," he added.
Meanwhile, Sanchez said police officers had been assigned to check the other 42 assisted living facilities and nursing homes in the city "to make sure they're in sufficient care of the elderly."
About one-third of the Broward County remains without power, Mayor Barbara Sharief said.
LINK: Live Updates: Florida Struggles To Recover After Irma
Source: https://www.buzzfeed.com/usnews.xml