In the wake of Hurricane Irma, one group of rescuers has captured the imagination (and thirst) of the internet.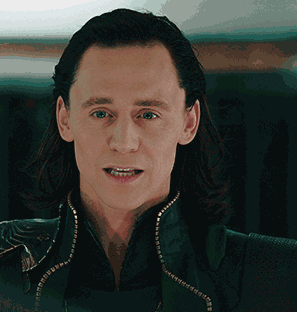 Giphy
Who are they? Meet the Hot Cops Of Gainesville, Florida ™.
Officers Nordman, Hamill, and Rengering are part of the Gainesville Police Department working on relief efforts for Hurricane Irma.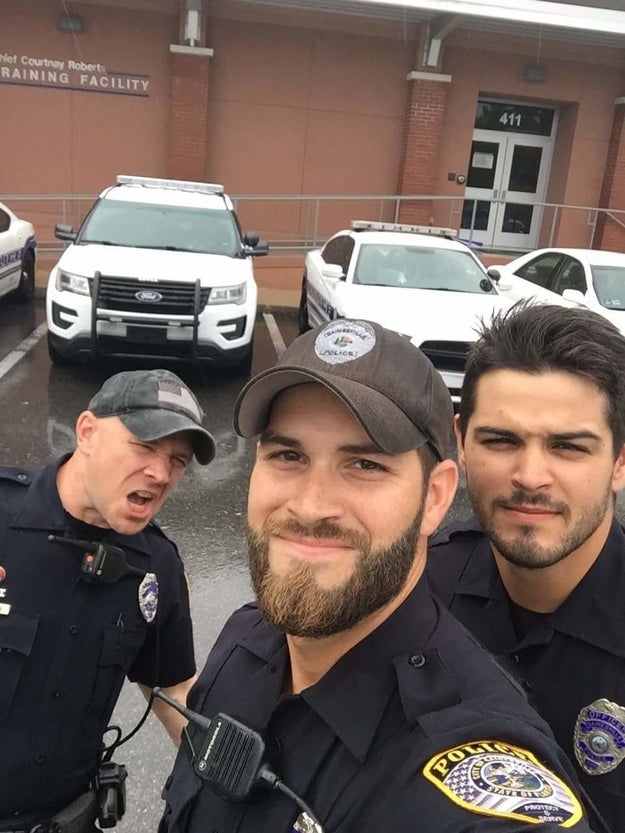 Gainesville PD
On Sunday, the Gainesville Police Department posted a selfie on Facebook of the three officers with the caption "Officers Norman, Hamill and Rengering…part of the night crew getting ready to do some work." The photo exploded across the internet: it's been liked 207,000 times, accrued 167,000 comments, and shared 132,000 times.
Thirst in the comments immediately reached Category 5.
"Officer, do you have anything that could stick or poke me?"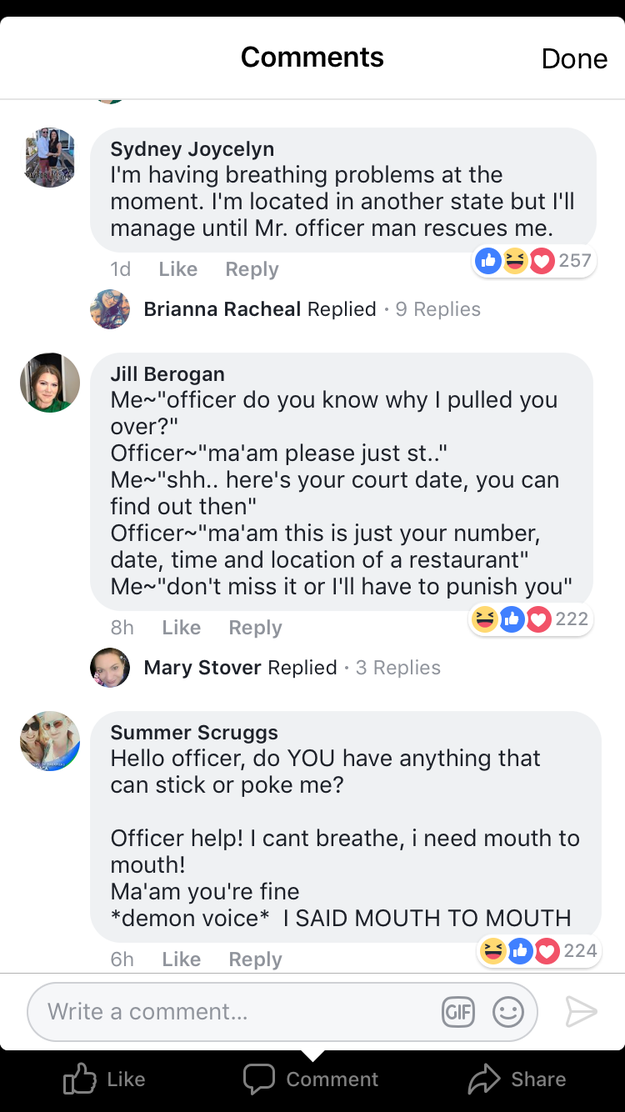 "This pic is exactly why your grandmother told you to wear clean underwear in case of an accident."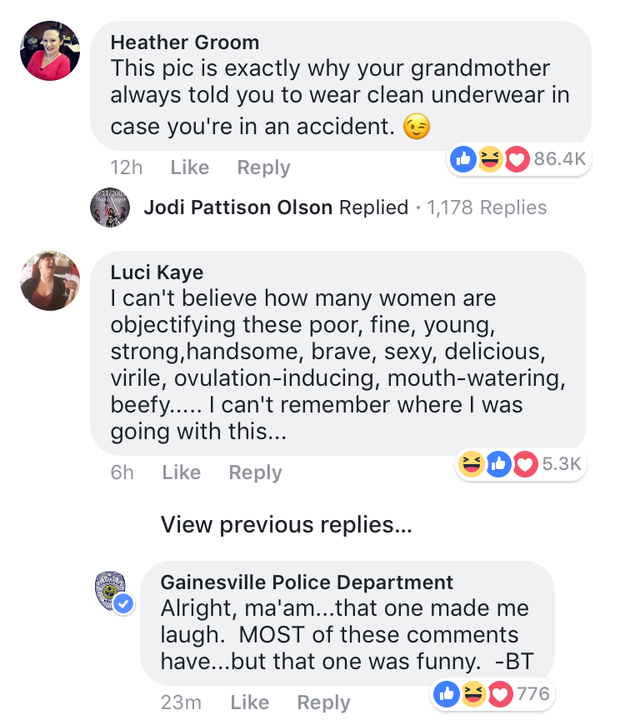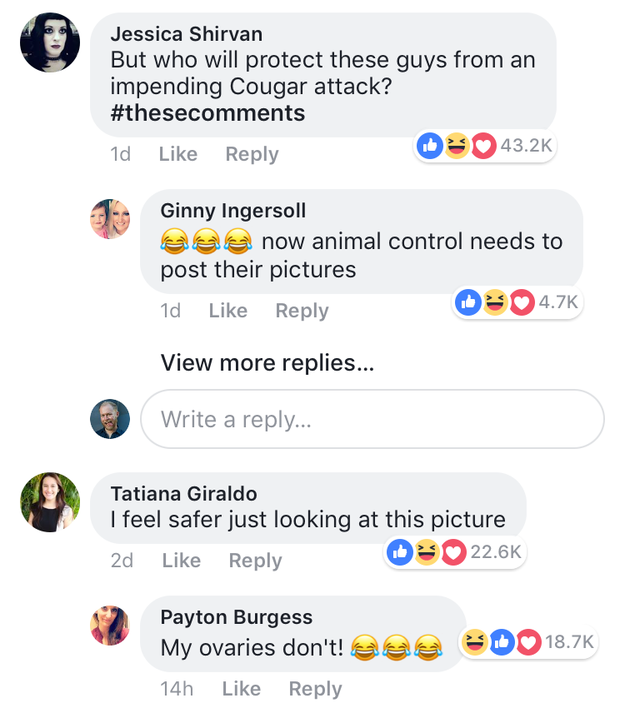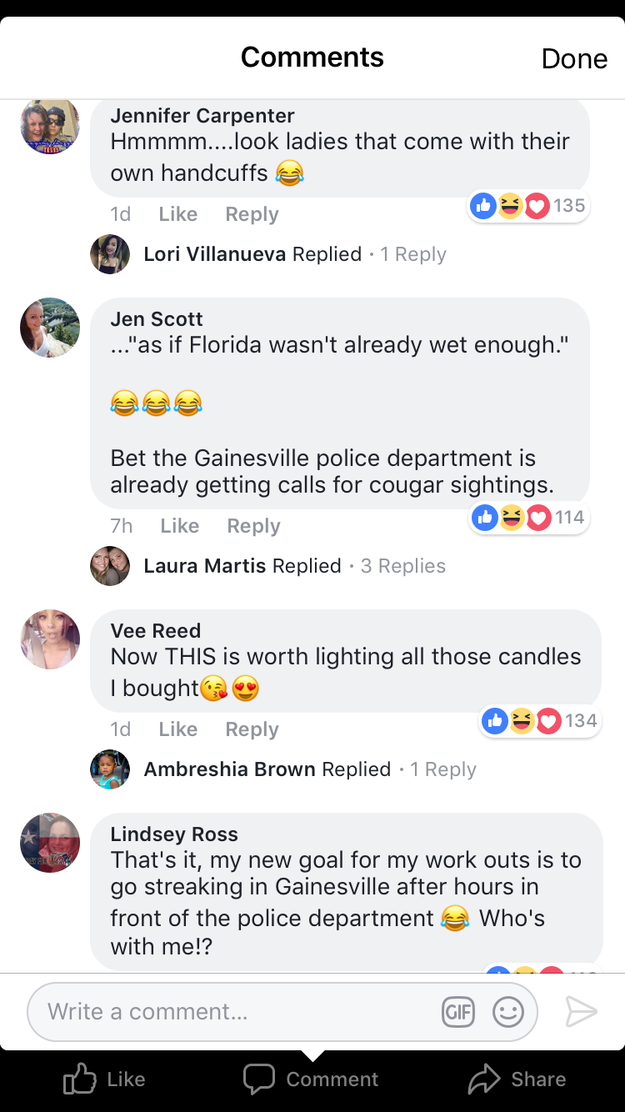 Some of the comments were so buck wild that the Gainesville PD responded with incredulous gifs.
Officer Ben Tobias, who runs the social media accounts for the department, made headlines in July when he condemned President Trump in a tweet over his suggestion that law enforcement officers get "rough" with suspects.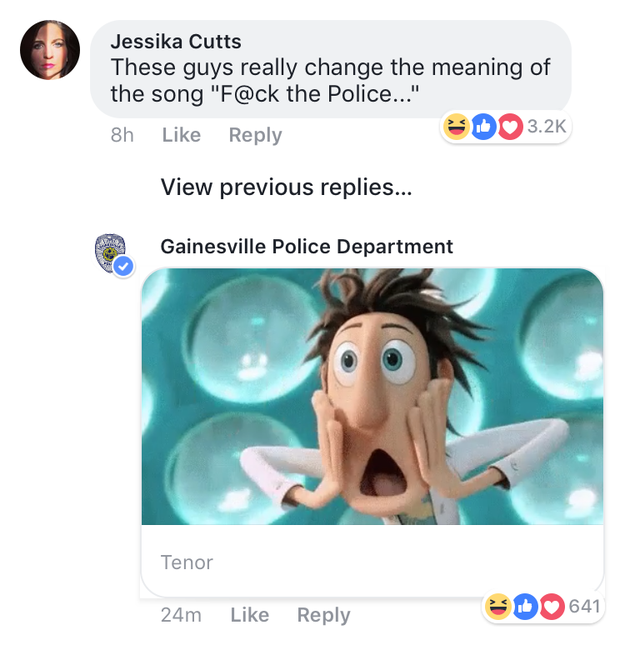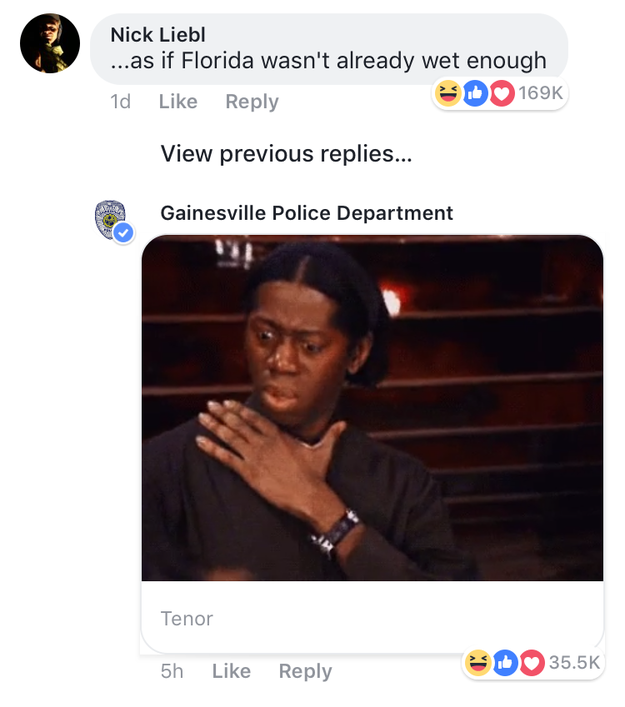 The department later updated its original post with the officers' marital statuses, giving the people what they wanted.
"1. We are dying with the comments. You've actually made our chief blush with some of them.
"2. MRS. Nordman and MRS. Hamill have also enjoyed knowing how millions of women are going crazy over their husbands.
"3. We can confirm that Officer Rengering (far right with the amazing hair) IS SINGLE.
"4. On another note, Officer Rengering is being placed into Cougar Prey Protective Care, similar to the witness protection program for his safety.
"5. Please do not call 9-1-1 and request this group respond to your 'incident.'
"6. There WILL be a calendar."
The police department did not immediately respond to a BuzzFeed News request for comment on the Hot Cops Of Gainesville ™. The Facebook page didn't offer any additional details on the calendar.
Cougar Prey Protective Care! A calendar! It's all too much!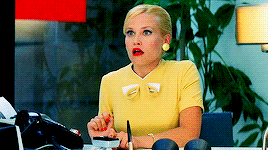 On Tuesday, the Gainesville PD shared other pics of first responders, including the very photogenic Officer Hatcher, who comes complete with a pair of bulging guns.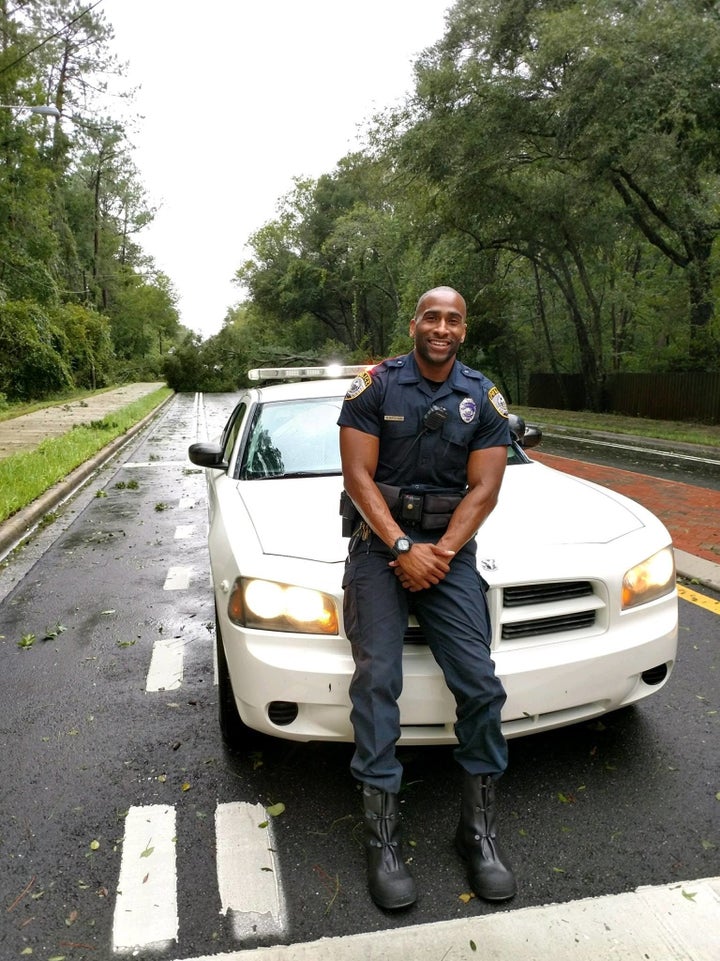 Gainesville PD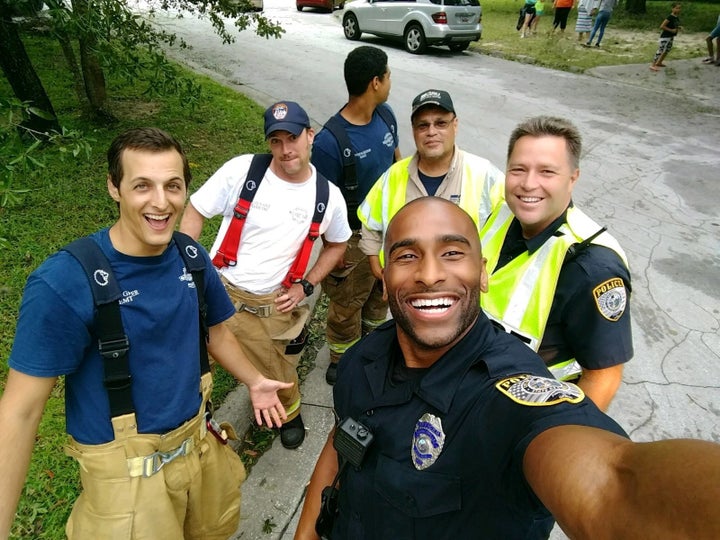 Gainesville PD
Just look at what those arms can do.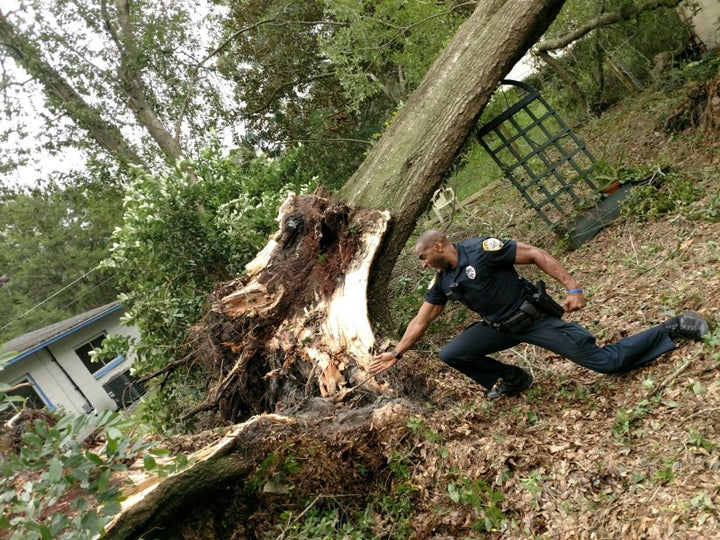 Gainesville PD
The Sarasota Police Department followed suit later Tuesday.
Their post has received more than 3,000 shares, 2,500 comments, and 10,000 likes.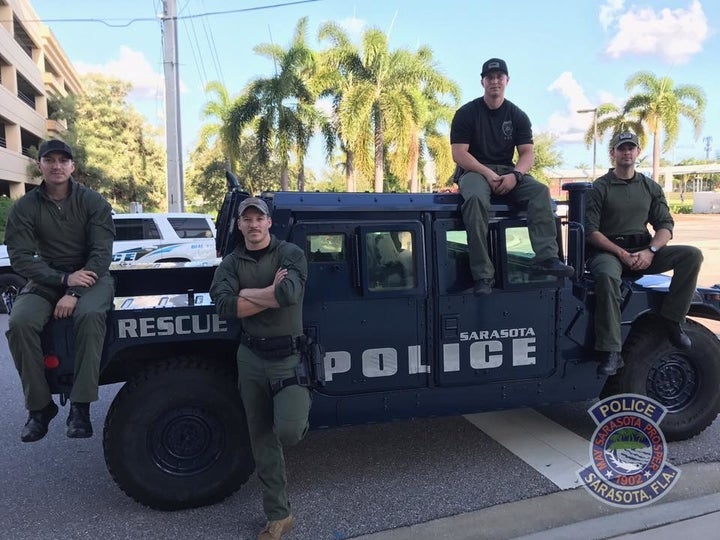 Better stock up on bottled water for all that thirst! It's hot in Florida!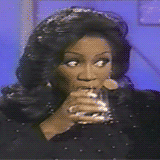 Giphy
Source: https://www.buzzfeed.com/usnews.xml