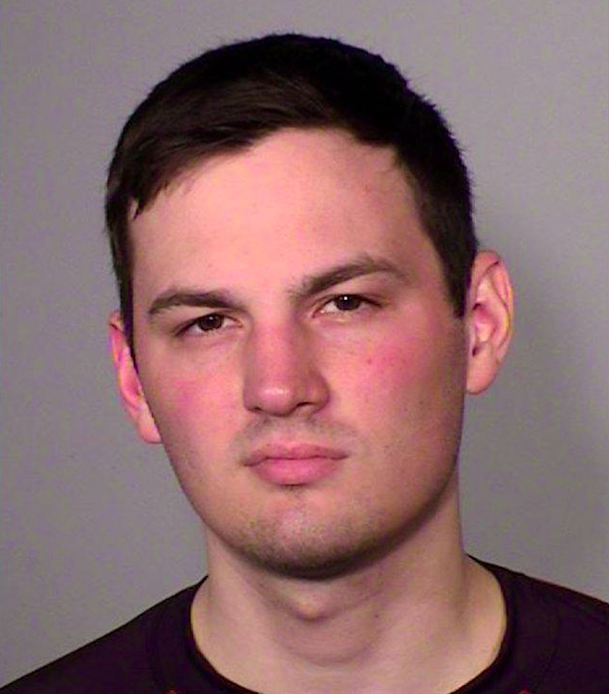 RAMSEY COUNTY JAIL
A campus security guard at a private Catholic university in St. Paul, Minnesota made up a story that he was shot by a black man wearing a hoodie after accidentally discharging his personal handgun while at work, St. Paul police said Wednesday.
Police said Brent Ahlers accidentally shot himself and lied to cover it up, fearing he would lose his job since he was not permitted to bring his personal firearm to the St. Catherine University campus.
"He was nervous about losing his job due to the fact that he had his gun at work, and what had occurred, so he made up the story to cover what had happened," St. Paul police spokesperson Mike Ernster said in a press conference Wednesday.
Fifty-five officers, 4 police K-9s, and a state patrol aircraft responded to Ahlers report of being attacked Tuesday night, Ernster said. The incident placed 1,800 students in lockdown in their dorm rooms.
"It had residents of the Mac-Groveland and Highland Park communities fearful that a suspect was on the loose and they could be victimized at any moment," Ernster said.
Ahlers was arrested and charged with falsely reporting a crime, a misdemeanor.
Tyrone Terrill, president of the St. Paul African-American Leadership Council, told the Star Tribune that Ahler's story is "sickening."
"He put not only black youth at risk, he put St. Paul police and other law enforcement at risk with his lie," Terrill said.
The president of the St. Paul NAACP told the Star Tribune, "that's what black people live with."
"We've been lynched, and we've been put in jail to find out later you haven't done it," Dianne Binns said. "That's the sad thing about it. It hasn't stopped."
Ahlers, who worked at St. Catherine University for 15 months, is no longer an employee, the university's president said in a statement.
"I want to be clear that St. Catherine University strongly condemns racial discrimination, racial stereotyping, and racial profiling of any kind," the statement reads. "The statements attributed to the former employee concerning the race of an alleged suspect are deeply troubling and do not reflect our values."
Source: https://www.buzzfeed.com/usnews.xml