One video shows Scout Schultz slowly walking toward the officers when he was shot. WARNING: This post contains video that may be disturbing to some people.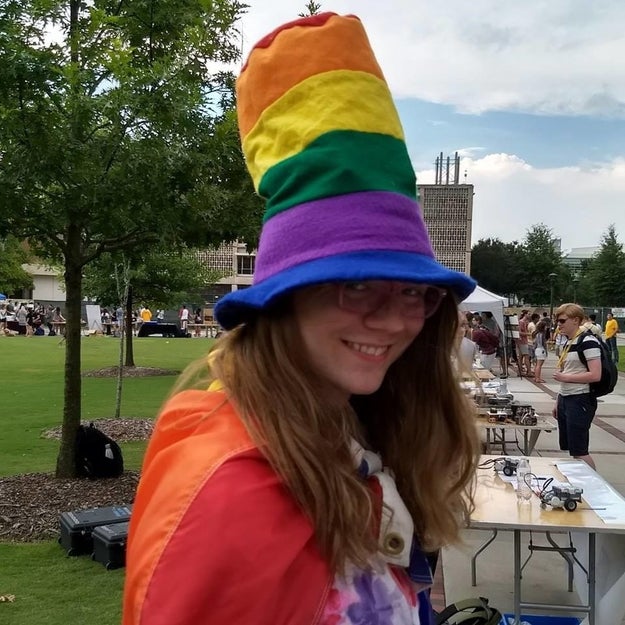 Facebook
A 21-year-old Georgia Tech student, who was the president of the campus Pride Alliance, was shot and killed by a Georgia Tech police officer, according to a statement released by the Georgia Bureau of Investigation.
The university, in a statement to BuzzFeed News, identified the victim as a fourth-year student named Scout Schultz:
The Georgia Tech community was notified Sunday morning of the tragic death of Scout Schultz, fourth year computer engineering student from Lilburn, Georgia. Schultz died on Sunday, Sept. 17 as a result of an incident in the West Campus residential community. The Georgia Bureau of Investigation is investigating the incident and reviewing the circumstances surrounding the death.
At 11:17 p.m. on Saturday night, the Georgia Tech Police Department received a call "of a person with a knife and a gun," the GBI said.
What followed took place outside of a Georgia Tech dormitory. The GBI said that Shultz "would not comply with the officers' commands," and that the student had a knife.
"Shultz continued to advance on the officers with the knife," the press release read. An officer then fired, according to the statement.
The student died at Grady Memorial Hospital. "The GBI Medical Examiner's Office in Decatur will conduct the autopsy," the statement read.
The GBI said that they're after the outcome of their independent investigation will be reviewed by the District Attorney's Office. The agency did not immediately respond to request for comment from BuzzFeed News.
Two apparent videos of the incident emerged: In one, the shooting was obscured by trees. (Warning: these following two videos may be disturbing to some people.)
[vimeo 234171972 w=560 h=308]
Another video, however, shows Schultz walking slowly toward the officers before he is shot.
---
Source: https://www.buzzfeed.com/usnews.xml