Maria has rapidly intensified into a major hurricane hours before it is expected to strike Puerto Rico and other islands ravaged by Irma.
Maria continued to strengthen on Monday and the eye of the storm was expected to move through the Leeward islands late Monday afternoon or evening, the National Hurricane Center (NHS) said.
The hurricane — which has maximum sustained winds of nearly 125 mph — will then move over the extreme northeastern Caribbean Sea Tuesday, and approach Puerto Rico and the Virgin Islands on Wednesday.
"Maria is expected to be a dangerous hurricane is it moves through the Leeward Islands and the northeastern Caribbean Sea," the NHS said, issuing hurricane warnings for several islands including Guadeloupe, Dominica, St. Kitts, Nevis, Montserrat, Martinique, St. Lucia, US Virgin Islands and the British Virgin Islands.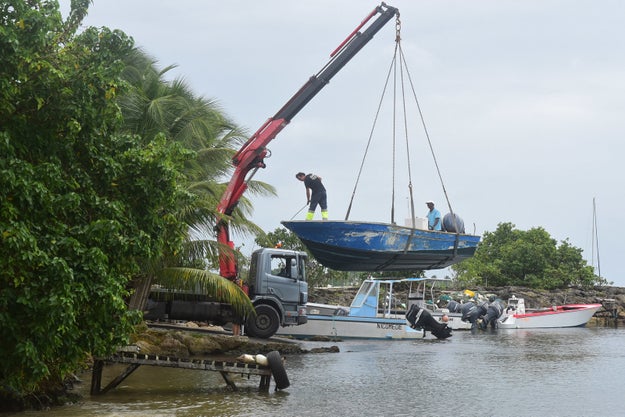 Men remove boats from the water ahead of Hurricane Maria in the Galbas area of Sainte-Anne on the French Caribbean island of Guadeloupe, early Monday.
Dominique Chomereau-lamotte / AP
The NHS also issued tropical storm warnings for Antigua and Barbuda, Saba and St. Eustatius, St. Marteen, and Anguilla.
---
Source: https://www.buzzfeed.com/usnews.xml