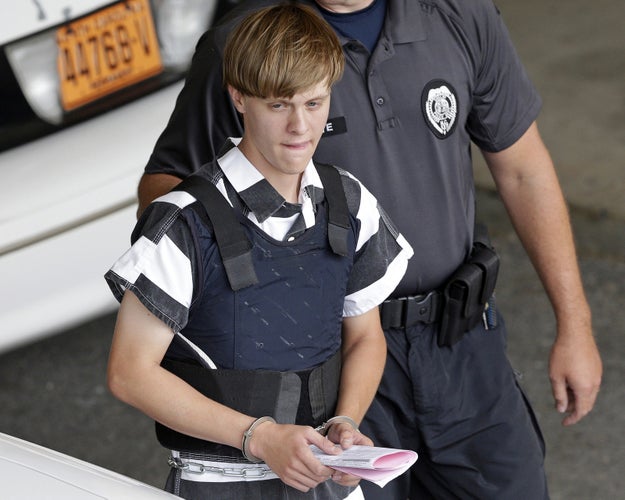 Dylann Roof is escorted on June 18, 2015.
Chuck Burton / AP
The white supremacist who murdered nine people at a Charleston church is now seeking to fire his attorneys because of their race.
A handwritten petition from Dylann Roof was filed Monday seeking to remove and replace the court-appointed lawyers who are working to appeal his conviction of murder and federal hate crimes. Roof was sentenced to death in January for the 2015 massacre at Emmanuel AME Church during a Bible study.
"My two currently appointed attorneys, Alexandra Yates and Sapna Mirchandani, are Jewish and Indian, respectively," Roof wrote. "It is therefore quite literally impossible that they and I could have the same interests relating to my case."
Roof has been assisted in his defense by court-appointed lawyers since the unemployed high-school dropout was arrested. During the penalty phase of his trial, Roof took the lead in spite of a court-appointed lawyer, David Bruck, known for his experience in capital cases. During preparations for the hearing, Roof threatened to kill Bruck if he ever got out of jail.
Still, just days later in court, Bruck pleaded for the judge to allow him to take over the arguments that Roof should be spared the death penalty.
"I have to be heard on his behalf because he cannot do it," Bruck told the judge. "This man cannot protect his own rights. He cannot do it…This is his sentencing, not a memorial service."
In the motion filed Monday, Roof bristled at Bruck's earlier attempt to save his life because the attorney is Jewish.
"His ethnicity was a constant source of conflict, even with my constant efforts to look past it," Roof wrote.
LINK: Jury Sentences White Supremacist Dylann Roof To Death For The Charleston Church Massacre
Source: https://www.buzzfeed.com/usnews.xml