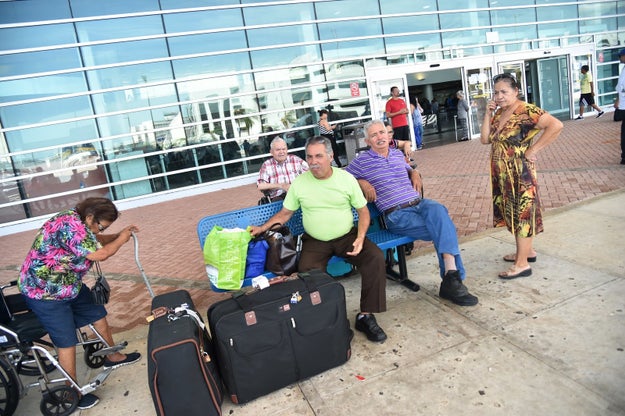 Luis Munoz Marin International Airport, in San Juan, Puerto Rico, on September 24
Hector Retamal / AFP / Getty Images
Days after Hurricane Maria tore through the Caribbean, hundreds of people are still reportedly stranded at Puerto Rico's largest international airport just outside San Juan, with no air conditioning and limited food.
For at least three days, since Luis Muñoz Marin International (SJU) Airport re-opened, hundreds of people have been waiting to leave while a limited stream of flights operate.
The SJU airport authority said in a statement on Sunday that the airport is still operating under emergency conditions, with just ten flights per day allowed in and out of the facility.
"We continue to operate with emergency plans so there is no air conditioning and certain services are limited," the statement said.
The authority did not immediately respond to a request for comment, but a spokesperson for Delta Air Lines said they had been told that 20 flights per day would be allowed starting Monday. The airline ran one flight per day over the weekend, with two (one to New York and one to Atlanta) scheduled on Monday. They normally operate six flights in and out of San Juan on a regular day.
One woman wrote on Facebook that she had been stuck in the airport on Sunday. "You dragged all of us through torment," she wrote on the airport authority's Facebook page.
Facebook: claritza.narvaezreyes
The spokesperson for Delta Air Lines said the company had brought in 20,000 pounds of supplies on a humanitarian flight on Saturday, and that some of those supplies were for stranded passengers and employees.
"Those supplies that we're moving into the airport are both for our employees as well as customers at the airport," the spokesperson told BuzzFeed News. "To the extent that we can increase the number of operations — and this is still pending with the airport authority there — but hopefully that will come to fruition tomorrow that we can begin to operate a more normal schedule and begin to move customers out of there."
People—including elderly travelers and small children—slept on the floor in the hot, humid conditions in the airport over the weekend and on Monday.
On Sunday night, Miami Herald Reporter Patricia Mazzei, on her way back to Miami from the airport, wrote "SJU airport is a mess. Terminal is powerless: dark, hot and absolutely packed with stranded travelers and would-be travelers."
CBS News' David Begnaud reported that though lighting had been restored, the situation had otherwise not improved on Monday morning. Puerto Rico Governor Ricardo Rosselló told Begnaud he plans to send food supplies to people stranded at the airport.
American Airlines told BuzzFeed News they have one flight arriving and departing from the airport on Monday, which can carry up to 310 passengers. On a regular day, the airline normally runs up to 20 flights out of the airport.
"We are working to assist our customers, and get them rebooked on the next available flights. It is just important to know that all airlines are restricted on the number of flights they can operate," a spokesperson for the airline said.
A spokesperson for FEMA told BuzzFeed News they have more than 700 FEMA staff on the ground in Puerto Rico and the U.S. Virgin Islands but did not respond to questions specifically about the conditions at Luis Muñoz Marin International Airport and whether FEMA was sending assistance to the people stranded there.
San Juan's airport authority, Jet Blue, United, Spirit Airlines and SouthWest, which usually operate flights out of San Juan, did not immediately respond to requests for comment.
Source: https://www.buzzfeed.com/usnews.xml