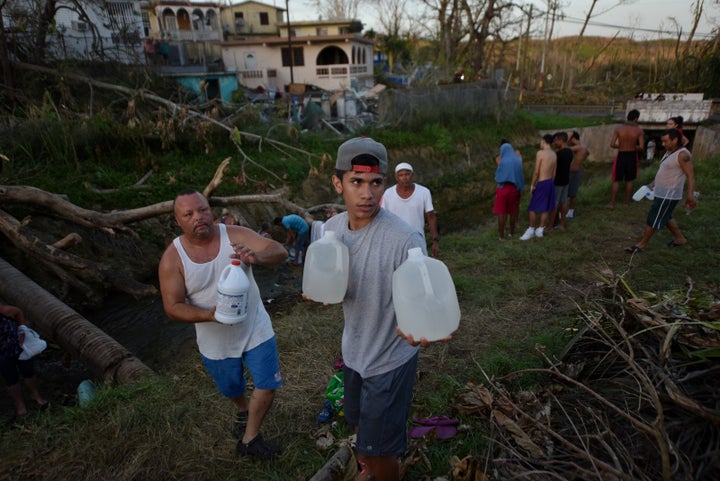 People carry water in bottles retrieved from a canal in Toa Alta, Puerto Rico, on Monday.
Hector Retamal / AFP / Getty Images
Almost 1.5 million people lacked drinking water and infrastructure remained crippled in Puerto Rico Tuesday as the devastation from Hurricane Maria continues wrecking havoc on the island.
In a report, the Department of Defense outlined the harrowing situation in the US territory, which was slammed last week while Maria was still a category 4 storm. Roughly 44% of the island's 3.4 million people were without potable water Tuesday, the report stated, while the local power grid suffered damage to "80% of the transmission system and 100% of the distribution system."
The report also revealed that only 11 of 69 hospitals had fuel or power. Domingo Cruz Vivaldi, executive director of San Jorge Children's Hospital in San Juan, told CNN that the facility was facing a "crisis right now" over fuel.
"The hospital is needing diesel every day — 2,000 gallons a day," he said. "Yesterday, we ran out of diesel at 6 am and we were without electricity at the hospital from 6 am through 2 pm. Eight hours without electricity."
According to the Associated Press, grocery stores were gradually reopening, but food and water remained scarce in some locations.
However, the Defense Department report did indicate that officials were making some progress. Crews were working Tuesday to restore power to hospitals using generators, and eight airports on the island including San Juan International were either open or operating with some restrictions.
In addition, a dam that had menaced the island with a potential rupture was "intact but in need of reinforcement to ensure stability," according to the Defense Department.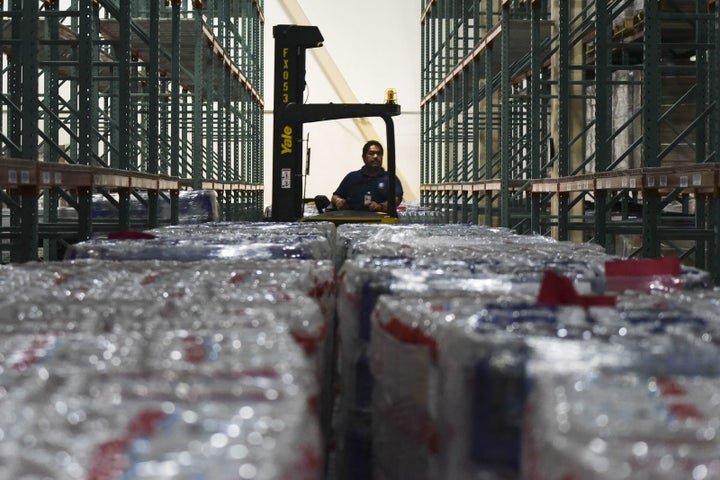 A worker moves bundles of water bottles at a FEMA Central Warehouse in San Juan, Puerto Rico, Tuesday.
Carlos Giusti / AP
In a news conference Tuesday, FEMA administrator Brock Long also said that the agency currently has 6 million liters of water already on the island. It was not immediately clear how FEMA planned to distribute that water to the island's population.
Puerto Rican Gov. Ricardo Rossello also tweeted Tuesday that the National Guard was touring the island and helping distribute water.
LINK: Trump Defends Maria Response, Says Puerto Rico Was A "Complete Wipeout"
LINK: Scientists Are Trying To Rescue 1,500 Monkeys In Puerto Rico
Source: https://www.buzzfeed.com/usnews.xml