But it turns out, Trump wasn't included in the 280 character test group, meaning that for now he's going to have to keep tweeting just like the rest of the haters and losers. Sad!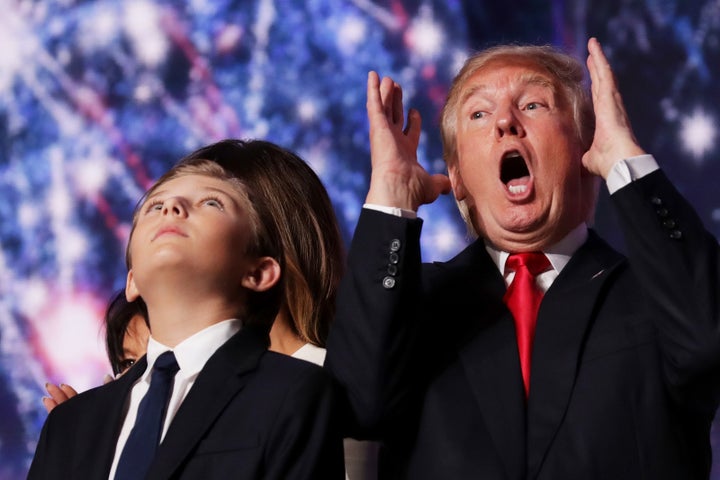 Trump in Cleveland in July 2016.
Chip Somodevilla / Getty Images
The new 280 character limit isn't for everyone. In a blog post, Twitter wrote that "we want to try it out with a small group of people before we make a decision to launch to everyone."
But Biz Stone, a co-founder of Twitter, tweeted Tuesday evening that Trump is not in the 280 character test group. A Twitter spokesperson later confirmed to BuzzFeed News that Trump was not included, explaining that the test group was selected at random.
Case in point, Trump has used Twitter this week to sustain his growing feud with NFL players who kneel during the national anthem before games. Since entering politics and winning the president, Trump has similarly used Twitter to lash out at a dizzying array enemies in both politics and popular culture.
His tweets regularly rack up thousands of retweets and end up screen shotted and shared on cable news for days.
Trump also regularly uses Twitter to reveal his geo-political priorities, often times with controversial results.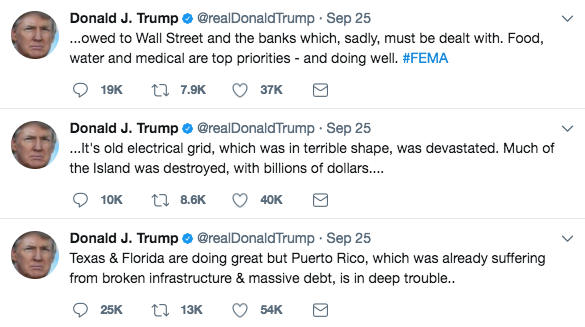 Twitter / Via Twitter: @realDonaldTrump
On Monday, for example, Trump weighed in on the ongoing crisis in Puerto Rico, as the island grapples with the aftermath of Hurricane Maria. The president's tweets drew some criticism, however, for focusing on Wall Street and the electrical grid.
Trump has also tweeted about the escalating situation in North Korea, referring to dictator Kim Jong Un as "Little Rocket Man" and warning "they won't be around much longer!"
North Korea's foreign minister responded by saying that the tweet amounted to a declaration of war. Asked for comment on Trump's tweet — specifically if it
violates the company's terms of service — a Twitter spokesperson told
BuzzFeed News it "does not comment on individual accounts for privacy
and security reasons."
It's still unclear if the 280 character test will be expanded to all Twitter users — including Trump. So for now, the president will have to keep posting unthreaded tweetstorms about world leaders, natural disasters, and TV ratings.
LINK: Twitter Tests Doubling Its Character Limit To 280
LINK: Twitter Might Increase The Character Limit To 280 And People Responded With 2: "NO"
Source: https://www.buzzfeed.com/usnews.xml