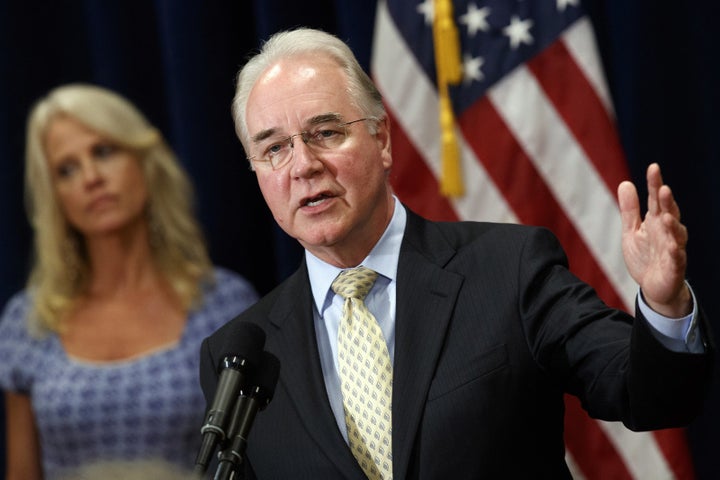 Evan Vucci / AP
Health and Human Services Secretary Tom Price on Thursday said he will pay a portion of the hundreds of thousands of taxpayer dollars spent on his privately chartered flights and will end his use of the jets.
Over recent days, Politico revealed that Price flew by private jet 26 times since last May, unlike previous secretaries who typically flew commercial. The flights amounted to hundreds of thousands of dollars — and unlike the other millionaires and billionaires of President Trump's cabinet, Price didn't reimburse the government for the costs.
Price had defended the flights as within the department's rules on travel, but they generated criticism from political opponents, as well as Trump. On Thursday, Price reiterated the travel was approved by lawyers and HHS officials.
"Despite this, I regret the concerns this has raised regarding the use of taxpayer dollars," he said in a statement.
Price added that he would cooperate with a review by the Office of Inspector General, and would no longer charter private flights for government purposes travel again.
"Today, I will write a personal check to the US Treasury for the expenses of my travel on private charter planes," he said. "The taxpayers won't pay a dime for my seat on those planes."
An HHS spokesperson said Price would be paying $51,887.31 to cover his share of travel. Based on Politico's reporting, that's about 1/8 of the more than $400,000 the flight charters cost the government.
There are also potential issues with Price just personally repaying the government for his use of private jets. An obscure law from the 19th century, the Antideficiency Act, bars the federal government from accepting free services, which could apply to Price covering the cost of his own travel.
Congressional Democrats and some outside government watchdogs are already looking into whether Education Secretary Betsy DeVos or Small Business Administration Secretary Linda McMahon have run afoul of that law by using private planes at their own expense.
In Price's statement, he also said he looked forward to continuing to serve Trump, who has publicly expressed his displeasure with the revelations.
"I have spent 40 years both as a doctor and in public service putting people first," Price said. "It has been my personal honor to serve the American people, and I look forward to continuing that service."
Since news of Price's private travel broke, rumors have swirled about whether Trump was considering firing him. On Wednesday, Trump told reporters he was "looking into it."
"And I will tell you, personally, I'm not happy about it," Trump said of the privately chartered flights. "I am not happy about it. I'm going to look at it. I am not happy about it, and I let him know it."
LINK: Trump Cabinet Members Paying For Private Jets Could Be Breaking The Law
Source: https://www.buzzfeed.com/usnews.xml