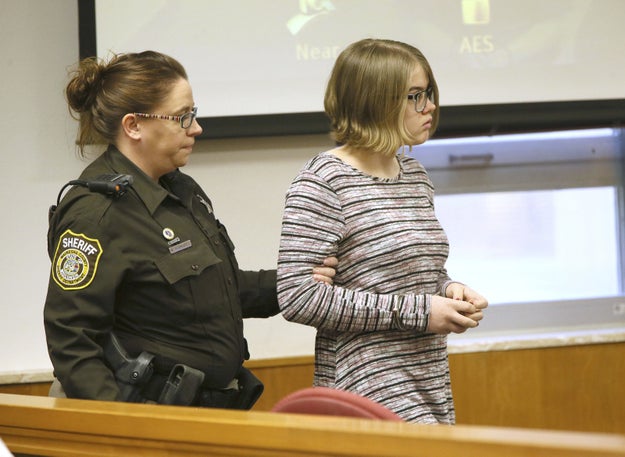 Michael Sears / AP
Morgan Geyser, the now 15-year-old charged with repeatedly stabbing a classmate in 2014 as a way of appeasing the fictional character Slender Man, on Friday reached a plea agreement with prosecutors — about two weeks before her trial is set to begin — essentially ending the years-long case that has captivated national headlines.
Geyser who is charged with attempted first-degree intentional homicide in the 2014 attack in Waukesha, Wisconsin is expected to plead guilty to the charge and prosecutors will agree she is not criminally liable by reason of mental disease or defect. The plea hearing is scheduled for October 5.
If the judge accepts the agreement Geyser will avoid prison could be sentenced up to 40 years in a state mental hospital.
"It's been a tragic experience for everyone" Geyser's attorney, Donna Kuchler, said in at a press conference. "Our hearts go out to the victim and her family. And we're very grateful that the district attorney's office gave this case the considering it deserves," she said.
Geyser and her friend Anissa Weier are accused of stabbing their classmate, Payton Leutner, 19 times to appease Slender Man, a kind of internet boogeyman who is often photoshopped into the background of existing images. All three girls were 12 at the time of the attack.
Prosecutors argued that the girls lured Leutner into the woods with them, where they then stabbed her.
In an August court hearing, Weier testified that when the girls reached the woods, Geyser asked whether she should stab Leutner.
"I wanted it to be over with, so I said 'Go berserk, do what you have to do,'" Weier said, adding that Geyser then jumped on top of Leutner, stabbing her repeatedly.
Prosecutors argued that Geyser and Weier planned on killing Leutner for months, as a way of becoming proxies of Slender Man — who is often described as a tall, faceless, black-and-white figure wearing a dark suit with octopus-like tentacles. The girls said they believed that if they didn't kill someone, Slender Man would hurt them or their families.
"I believed if I didn't go through with the plan, Slender Man would come and attack and kill myself, my friends, and my family, those that I care about most," Weier said in an August court hearing.
Leutner, who survived the attack, was able to crawl out of the woods to a path where she was found by a bicyclist.
Earlier this year a spokesperson for Lautner's family issued a statement to People magazine saying that the now 15-year-old is thriving as a high school freshman, taking Advanced Placement classes.
"Today, Payton is a strong young woman who is excelling in school and doing many things that a teenager would do with her family and friends," the spokesperson said.
Last month, Weier pleaded guilty to attempted second-degree homicide, just weeks before her trial was set to begin. Following the trial, the jury accepted her insanity plea, finding that she was not legally responsible.
After Weier's plea in August, Geyser's attorney Anthony Cotton suggested that a plea deal to avoid trial is still a strong possibility in his client's case, as well.
Geyser — who has been diagnosed with early onset-schizophrenia in 2014 — is heavily medicated, though "more lucid with the medication than she ever was," prior to her diagnosis.
Source: https://www.buzzfeed.com/usnews.xml