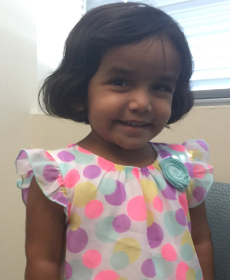 Richardson Police Department / Via Facebook: RichardsonPD
Texas police are looking for a 3-year-old girl who disappeared Saturday while standing outside alone in the middle of the night as a punishment for not drinking her milk.
An Amber Alert has been issued for Sherin Mathews, who is thought to be in grave and immediate danger.
The girl was last seen by her father, Wesley Mathews, 37, outside their home in Richardson, Texas, at 3 a.m. Saturday. Mathews took his daughter outside to discipline her after she refused to drink her milk and told her to stand by a tree in their backyard, according to an arrest warrant affidavit. When he returned 15 minutes later to check on the girl, she was gone.
Mathews did not report his daughter missing for 5 hours and told police when they arrived that coyotes had recently been spotted in the alley behind their house where Sherin was last seen. The backyard also backs up to railroad train tracks.
He was arrested Saturday on charges of abandoning or endangering a child.
"Why was the last sighting at 3 o'clock and the parents not call us until after 8 a.m., that's the question we want answered," Richardson police spokesperson Sgt. Kevin Perlich told the Dallas Morning News.
Officers and volunteers have been going door-to-door and canvassing the neighborhood and surrounding areas since Saturday afternoon, but have not had any leads on the missing girl's location.
Sherin, who is described by police as having developmental issues and "limited verbal communication skills," was last seen wearing a pink top, black pajama bottoms, and pink flip flops.
Source: https://www.buzzfeed.com/usnews.xml