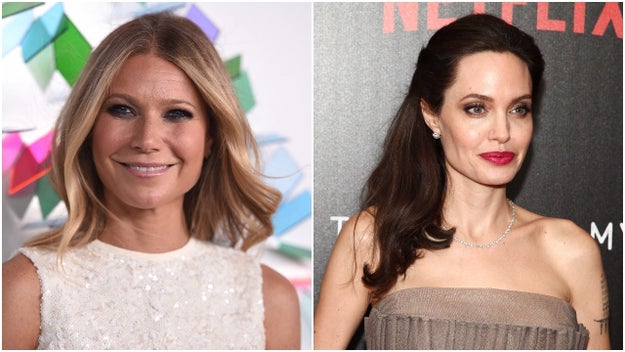 AP Images
Gwyneth Paltrow and Angelina Jolie, in an interview with the New York Times that published Tuesday, said film mogul Harvey Weinstein sexually harassed them when they were young actors.
The A-listers join a growing group of women who have accused the film executive of inappropriate sexual behavior.
Weinstein was fired from his position as co-chair of the Weinstein Company days after the New York Times published an article detailing decades of sexual harassment allegations against him.
Paltrow told the Times when she was 22 and cast as the lead in the Jane Austen adaptation of "Emma," Weinstein invited her to his suite at the Peninsula Beverly Hills hotel for a work meeting, which ended by him putting his hands on her and proposing massages in the bedroom.
"I was a kid, I was signed up, I was petrified," Paltrow told the Times, adding that she was afraid of losing her role in the film.
Paltrow confided in Brad Pitt — who she was dating at the time — who then confronted Weinstein about the incident, telling him to never touch Paltrow again. Pitt's representatives confirmed the story with the Times.
Weinstein then called Paltrow and yelled at her for telling people about the incident. Even after she won an Academy Award in 1999 for her role in "Shakespeare in Love" — a movie released by Miramax — Paltrow said very few people knew about Weinstein's advances.
"I was expected to keep the secret," she said.
Angelina Jolie also she had a "bad experience" with Weinstein while working on her 1998 film "Playing By Heart."
"I had a bad experience with Harvey Weinstein in my youth, and as a result, chose never to work with him again and warn others when they did," Jolie told the Times in an email. "This behavior towards women in any field, any country is unacceptable."
LINK: Three Women Have Accused Harvey Weinstein Of Rape In A New Yorker Expose
Source: https://www.buzzfeed.com/usnews.xml