"Don't ask that guy—he wants to hang them all!"
A New Yorker piece published Mondaysays President once joked about Vice President Mike Pence wanting to "hang" all gay people.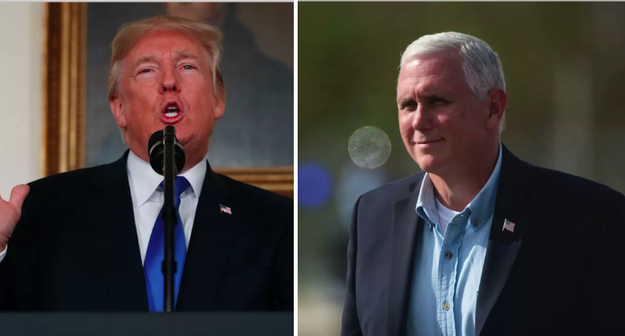 The anecdote, in the new profile of Pence by Jane Mayer, is an account of a meeting with a legal scholar, in which Trump supposedly made the comment about the vice president's thoughts on LGBT rights.
Two unnamed sources told the New Yorker that Trump jabbed at Pence for his stance on both abortion and gay rights in that meeting.
According to the piece, Trump "belittled" Pence's "determination to overturn Roe v. Wade" — the Supreme Court ruling that legalized abortion.
After the scholar explained that states might go ahead legalize abortion independently if the Supreme Court were to overturn the decision, the president then remarked to Pence that he was wasting his time.
"You see? You've wasted all this time and energy on it, and it's not going to end abortion anyway," Trump reportedly said to him.
After the conversation shifted to gay rights, Trump, according to the piece, gestured to Pence and said: "Don't ask that guy—he wants to hang them all!"
BuzzFeed News has reached out to the vice president's office for comment.
AP/ Evan Vucci, AP Photo/Carlos Giusti
Source: https://www.buzzfeed.com/usnews.xml