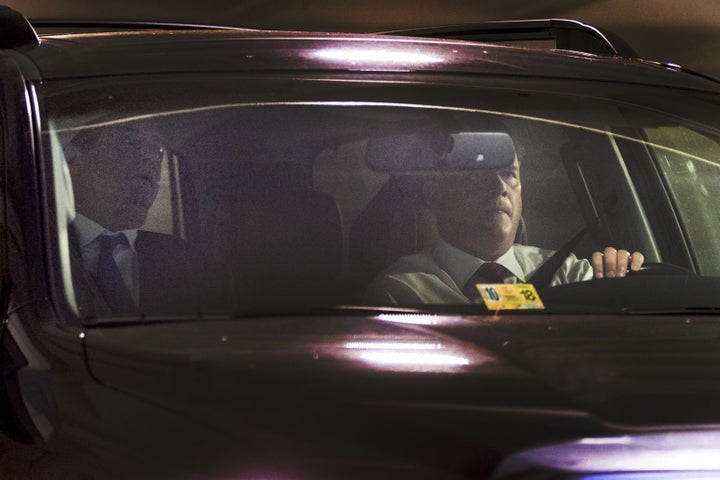 Paul Manafort, left, leaves his home in Alexandria, Virginia on Monday.
Andrew Harnik / AP
Paul Manafort, President Trump's former campaign manager, is expected to turn himself in to the FBI on Monday, the New York Times and CNN first reported.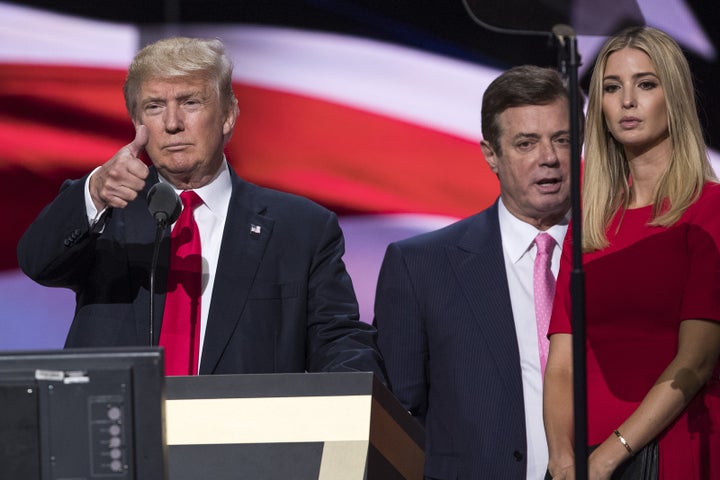 Manafort, center, with Trump and Ivanka Trump on the campaign trail in 2016.
Evan Vucci / AP
Rick Gates, Manafort's business partner, was also told by the FBI to surrender to authorities, the Times and ABC News reported.
These are the first people to be taken into custody in special counsel Robert Mueller's probe into whether Russia interfered in the 2016 election.

The FBI conducted a pre-dawn raid on Manafort's home in Alexandria, Virginia on July 26, using a search warrant that requested his documents relating to tax and banking.
The Washington Post reported that FBI "agents departed the Manafort residence with a trove of material, including binders prepared ahead of Manafort's congressional testimony."
The raid took place on the same day that Manafort was scheduled to appear before the Senate Judiciary Committee to discuss foreign interference in the 2016 election.
Manafort had been subpoenaed by the committee to appear, but it was withdrawn after he agreed to hand over documents and interview with them.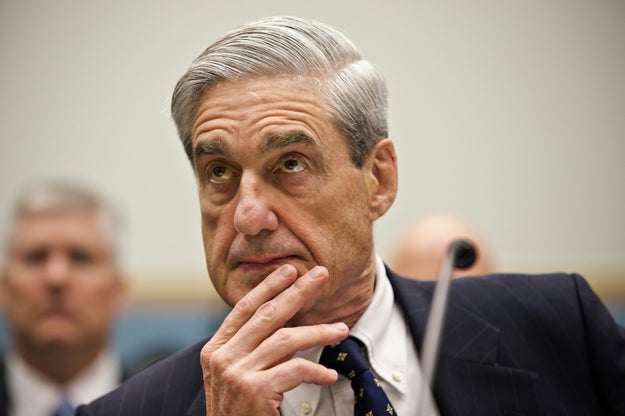 Mueller in 2013
J. Scott Applewhite / AP
Manafort, 68, has spent years working as a political lobbyist and advisor for Republicans and other political connections around the world.
He had first joined Trump's campaign in March 2016 to help with increasing the delegate count, before becoming campaign chairman in May.
Manafort resigned as Trump campaign chairman on August 19, 2016, after increased media scrutiny of his ties to Ukraine and Russia.
Manafort advised the former president of Ukraine, Viktor F. Yanukovych, a close ally of Russian president Vladimir Putin, back in 2004.
In July the New York Times reported that Manafort had been $17 million in debt to pro-Russia interests, through shell companies connected to his past political lobbying in Ukraine, before he joined the Trump campaign.
The lawyer and lobbyist has long raised eyebrows in Washington because of his international political work, including advising Mobutu Sese Seko of the Democratic Republic of Congo and Ferdinand Marco of the Philippines, and Angolan guerrilla leader Jonas Savimbi.
This is a developing story. Check back for updates and follow BuzzFeed News on Twitter.
Source: https://www.buzzfeed.com/usnews.xml