Screenshot/Artur Żmijewski
Groups representing Holocaust survivors are demanding an explanation after Polish artists were allowed to film naked people playing tag inside a former Nazi concentration camp gas chamber.
On Wednesday, the Organization of Holocaust Survivors in Israel and the Simon Wiesenthal Center sent a letter to Polish President Andrzej Duda asking if the artists gained "permission from the Stutthof administrators to make this video," what the rules of conduct are at the site, and how they are enforced.
The groups also inquired if there had been an investigation into the video's creation.
Although the video was filmed and displayed at art exhibitions years ago, researchers just recently discovered it was filmed inside the Stutthof concentration camp in Poland, prompting further outcry and clarification from Polish leaders.
Artist Artur Żmijewski shot the video in 1999 and it was later displayed, with some controversy, at a 2015 exhibition called "Poland – Israel – Germany – The experience of Auschwitz" at the Museum of Contemporary Art in Krakow, The Times of Israel reported. In the film, naked men and women file into the gas chamber at Stutthof and proceed to run around, laughing, playing tag for nearly five minutes.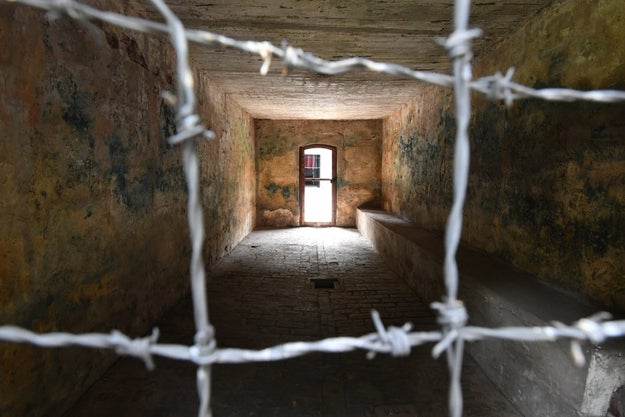 Pool / Getty Images
About 65,000 people died at the camp between 1939 and 1944, according to the Muzeum Stutthof, and it "became a camp of mass- extermination" toward the end of the war.
"At the time, no comment or word of critique was heard from Polish official sources regarding the video, neither from the Prime Minister's office, nor from any official/ government representative- not Poland's Ministry of Culture or Foreign Ministry, or from Krakow's city mayor," the organizations wrote.
In his description, Żmijewski explains that the "Game of Tag" attempts to "face the trauma of Holocaust and to radically deal with it."
"This work is full of cruel fun, sadism, nudity and childish carelessness at the same time. It is full of innocence, laughter, juvenile amusement. It was all about the visual reconstruction of a situation. Just as it was back then: naked people in a gas chamber. But instead of horror, we have giggles, toys, erotic games, innocent frolics. What a relief!," he concludes.
The Krakow museum pulled the controversial art piece from the 2015 exhibition after protests by Jewish organizations, but then reinstated it, defending their right to "freedom of artistic expression," the Times reported.
The location of the film was recently determined after comparing footage from the Duke and Duchess of Cambridge's visit in July, to the film, the BBC reported, prompting the groups to "demand clarifications from the Polish leaders and the administration of the Stutthof concentration camp site (and museum)."
"This is a problem that needs to be addressed. If people are not sufficiently sensitive to the terrible acts of the Holocaust and do not respect its victims then proper conduct in the sites in Poland cannot be properly secured," David Schonberg, a Jewish lawyer who first noticed the connection, told the BBC.
"This also requires proper scrutiny of these sites and making sure that objectionable materials that are so insensitive to the memory of the Holocaust will not be brought on public display."
Source: https://www.buzzfeed.com/usnews.xml