Flynn and Trump in September 2016.
John Locher / AP
A day after his former national security adviser pled guilty to lying to the FBI during his time in the White House, President Donald Trump took to Twitter to comment on the case — but, in doing so, he appeared to offer a potentially shocking new revelation about what he himself knew and when.
For the first time, the president appeared to say he was aware that Flynn had lied to FBI agents, and not just Vice President Mike Pence, at the time he left the administration in February. (Trump said Saturday he fired Flynn, but the White House at the time said Flynn resigned).
"I had to fire General Flynn because he lied to the Vice President and the FBI," Trump tweeted while in New York City for fundraising events. "He has pled guilty to those lies. It is a shame because his actions during the transition were lawful. There was nothing to hide!"
Trump is known to tweet provocatively and without facts — and without consulting his advisors. BuzzFeed News asked the White House for clarification and comment on Saturday's tweet. Press secretary Sarah Huckabee Sanders referred the request to Trump lawyer John Dowd. Asked what date the president became aware Flynn had lied to the FBI, and whether the president had committed obstruction of justice in a subsequent meeting with James Comey, Dowd simply responded, "No."
But the wording of Saturday's tweet conflicts with Trump's initial announcements that he ousted Flynn only because he wasn't truthful with Pence about his phone calls with the Russian ambassador, and adds to the already confusing timeline of Flynn's departure.
Trump has also defended Flynn against charges of any wrongdoing in the past. The month after Flynn left the White House Trump tweeted that he "should ask for immunity in that this is a witch hunt (excuse for big election loss), by media & Dems, of historic proportion!"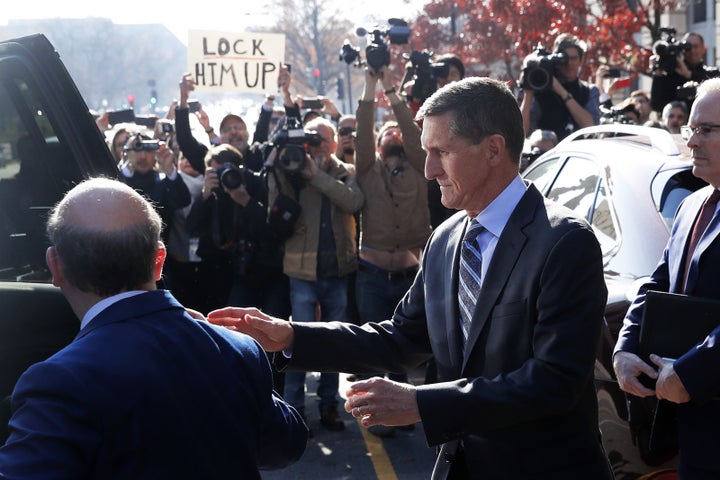 Flynn leaving court on Friday.
Jonathan Ernst / Reuters
Saturday's tweet also potentially colors Trump's subsequent behavior in his meetings with former FBI Director James Comey.
On Feb. 14, the day after Flynn's ousting, Trump met with Comey and suggested he stop the FBI investigation into Flynn and his links with Russia, according to testimony Comey delivered before Congress.
"I hope you can see your way clear to letting this go," Comey said Trump told him. "I took it as a direction. It is the president of the United States, with me alone, saying, 'I hope this,' I took it as this is what he wants me to do. I didn't obey that."
Former head of the US Office of Government Ethics Walter Shaub and former Department of Justice spokesman Matthew Miller immediately pounced on Saturday's tweet as evidence that Trump was trying to obstruct justice.
A former Republican strategist for Sen. John McCain, John Weaver, also noted that Trump pressed Comey to stop the Russia investigation, calling it "obstruction."
On Friday Flynn pleaded guilty to lying to the FBI about the content of his December 2016 conversations with then-Russia ambassador Sergey Kislyak, as part of a plea deal which involves him co-operating with prosecutors working for the Mueller investigation.
Flynn spoke with Kislyak in December 2016 at the direction of Trump son-in-law Jared Kushner, a source told BuzzFeed News. On Jan. 24, 2017, four days into his tenure as national security adviser, Flynn lied to the FBI about those interactions.
Two days later, on Jan. 26, then Acting Attorney General Sally Yates told White House Counsel Don McGahn it appeared Flynn had lied to White House officials, including Pence, about his contact with the Russians, she later testified before Congress. Yates said she also told McGahn that Flynn had been interviewed by FBI agents two days before, but declined to tell him how that interview had gone when asked.
It wasn't until Feb. 13 that Flynn resigned. In his resignation letter, he said he was quitting for having "inadvertently briefed the Vice President Elect and others with incomplete information regarding my phone calls with the Russian Ambassador." It did not expand on the identities of the "others" mentioned.
Three days later, Trump gave a press conference in which he declared that he had fired Flynn because of his denials to Pence about conversations with the Russian Ambassador.
"I fired him because of what he said to Mike Pence. Very simple," said Trump.
He continued:
Mike Flynn is a fine person, and I asked for his resignation. He respectfully gave it. He is a man who there was a certain amount of information given to Vice President Pence, who is with us today. And I was not happy with the way that information was given.
He didn't have to do that, because what he did wasn't wrong — what he did in terms of the information he saw. What was wrong was the way that other people, including yourselves in this room, were given that information, because that was classified information that was given illegally. That's the real problem.
On June 18, Comey appeared before the Senate Select Committee on Intelligence about Trump and the Russia investigation and said Trump fired him specifically because of the Russia investigation.
"I was fired because of the Russia investigation… to change the way the Russia investigation was being conducted. That is a very big deal," said Comey.
After Flynn appeared in court on Friday, Trump lawyer Ty Cobb told reporters that "nothing about the guilty plea or the charge implicates anyone other than Mr. Flynn."
Earlier on Saturday, as he left Washington for New York City, President Trump said he was not concerned what Flynn might tell Mueller as part of his deal.
"What has been shown is no collusion, no collusion," he said.
When asked if he stood by Flynn, the president responded, "We'll see what happens."
LINK: Trump Wants The Mueller Investigation Over By New Year's. It Won't Be.
Source: https://www.buzzfeed.com/usnews.xml