According to Haywood County Schools' superintendent, police will not be filing any criminal charges against the culpable students who made disturbing racist threats in a leaked group chat.
School officials in Brownsville, Tennessee have launched a "full investigation" into group chats that have circulated among students and community members of Haywood High School. The exchanges show racial slurs and disturbing threats against one or more black people — including the phrase "stringing a n***er up."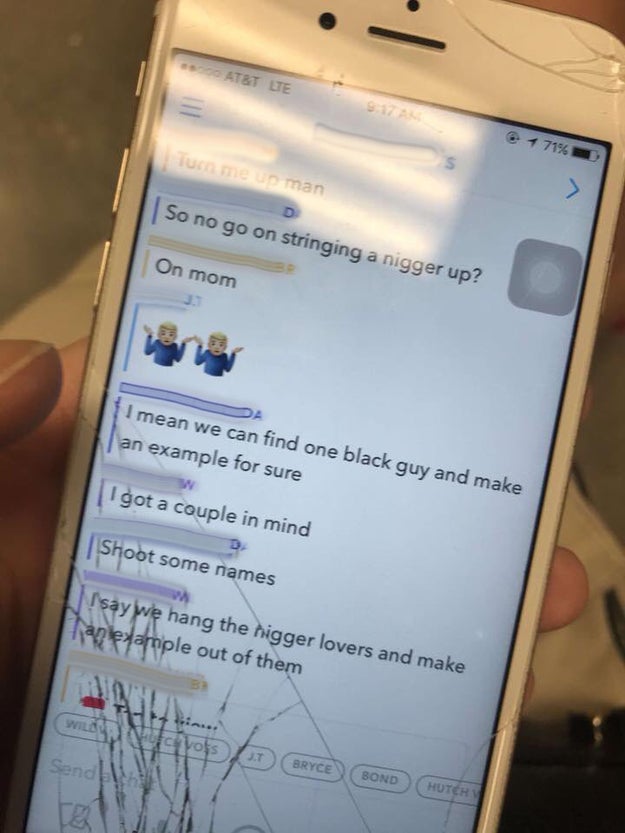 Three former and one current student provided BuzzFeed News screenshots of a private group chat among what they said were white Haywood High School students, Who reference "hang[ing] n***er lovers" and making an "example" out of them.
21-year-old Haywood alumni Kyler Douglas was one of the first to publicly share the photos of the text to his Facebook page two weeks ago. He told BuzzFeed News a friend and current student at the school sent them to him but he himself "was too scared to say something."
Douglas said his friend is a black student on the baseball team, and claims the students in the group chat are also members of the baseball team.
School officials told BuzzFeed News they were made aware of the messages late Sunday morning. "We are completing a full investigation and will then take appropriate action based on the findings and following school board policy," superintendent Joey Hassell of Haywood County schools said.
Kyler Douglas / Facebook
On Monday, students, parents, and members of the community showed up to the school in protest. Some claim not enough has been done to penalize the students and to protect the students who were threatened.
Douglas participated in the sit-in protest at the school. "Something needs to happen," he said. "I don't know if anything will happen."
Freshman Angelina Ferrer, who skipped her classes on Monday to participate in the protest, said she believed the alleged punishment the white students received was not sufficient enough.
"We will not stop until we get justice with the school school system," she said.
School principal Dr. Jerry Pyron didn't return a request for comment.
In an official statement via their Facebook page, superintendent Hassell said the school district is "cooperating with the Brownsville Police Department to ensure that we have a safe, orderly learning environment for our students."
Hassell also stated that Brownsville police will not be filing any criminal charges against the students in the group chat.
BuzzFeed News attempted to contact the police department but were informed that there was no one in the office who could take any questions — "There's no one in the office; they're all at the high school protest," a dispatcher said.
Facebook: HaywoodCountySchools
Source: https://www.buzzfeed.com/usnews.xml